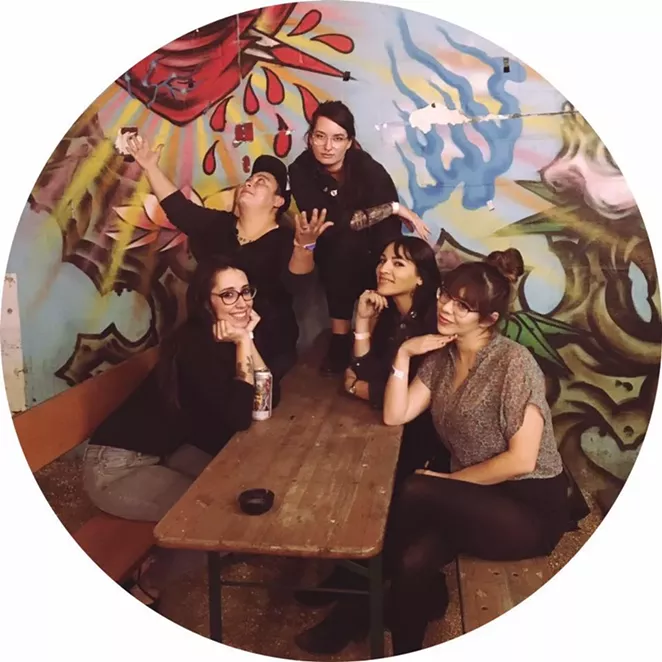 https://www.facebook.com/TopoChica/
Topo Chica

There are many female musicians here who balance out the bearded bro-ness that often embodies local indie scenes — women like Feliza Salazar, who plays drums for the instrumental prog group Verisimilitude, soul singer Amea, who's about to embark on a tour across the country, or Bianca Quiñones, front woman for the ferocious hardcore punk group, Amygdala.


To help pave the way for the next generation, The SA Girls Rock Camp wants to equip young women with an opportunity to explore their musical interests and get some hands-on learning by connecting with volunteers who are active in local music community. The camp curriculum focuses on providing instruction and support in the history of women in rock, gender and diversity, body positivity, healthy relationship and communication skills, and DIY printmaking, as well as music lessons. Per the group's website:


The camp (which will be held at 318 MLK Dr. from Monday, July 17 through Friday, July 21) is affiliated with the Girls Rock Camp Alliance, the Portland-based organization that has seeded such camps across the country over the past decade.


"I wanted to be in a band, instead of just going to a middle school orchestra band kinda thing," SA camp director Echo Diaz told the Current. Diaz says she volunteered as a guitar instructor at an Austin Girl's Rock camp several years ago. After seeing the positive impact it had on young women, she wanted to bring the concept home.


To help raise money for camper scholarships, Lowcountry is hosting a benefit show on First Friday, July 7. Volunteer sign-ups for the camp will be available as well as donation-based screen printing to benefit the camp and will feature live music from Topo Chica, Polly Anna and Heather Leathers.

Registration for the camp is open until July 1. For more information visit the group's website.

Friday, July 7, Free (donations appreciated), 8pm, Lowcountry, 318 Martinez St., 210-560-2224