When the need arises...
Everyone is familiar with charities such as United Way, American Red Cross, or Salvation Army. These are large organizations with big budgets and a correspondingly wide-ranging community reach. On the other hand, there are many smaller, lesser-known organizations, which are no less valuable to the causes they serve.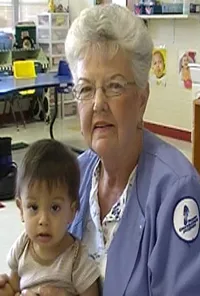 I first learned of the Foster Grandparent Program when I was shooting a video at Blessed Sacrament Academy (BSA). Sister Odilia, BSA's President, introduced me to one of their foster grandparents. In a world which seems more fractured every day, it was like finding a hidden jewel of hope. As a grandma myself, I was interested in finding out more. So, I visited with Stella Senac at Catholic Charities where the program falls under their Senior Community Services Division.
Here's what I found out:
San Antonio was the first city to have a Foster Grandparent Program. It was established in 1965 by members of the community including the venerable Henry B. Gonzalez and Milbrew Davis.
There are now 45 cities across the U.S. with Foster Grandparent Programs. Most of the program is federally funded.
The average age of the approximately 103 active seniors is 70. More than 20 agencies or hospitals in San Antonio benefit from the Foster Grandparent Program. In one year, the foster grandparents interact with over 4,500 children and juveniles.
Foster grandparents provide mentoring, one-on-one support and care for at-risk children or children with special needs. Some of what they do is help students with reading; hug the babies in the preemie ward; give advise to teen parents; and assist mentally challenged persons with their day-to-day activities. They touch with love and listen with their hearts. Often times, a foster grandparent makes the defining difference in a child's life.
Volunteers who quality as 'low income' can receive a stipend, an annual physical, transportation and meals.
And, if you doubt the amount of joy the grandparents receive, watch the video of Geraldine Smith, foster grandparent at BSA's Child Development Center. She really tells it best.
If you were fortunate, you understand how much it can mean for a child to receive the comforting love and attention of a grandparent. If you know a senior citizen who might be interested in volunteering, please pass this on. Contact Stella Senac at Catholic Charities at 210.3743. or email ssnac@ccaosa.org
For more from Laura Carter follow @LauraCarter or visit A Small Blog