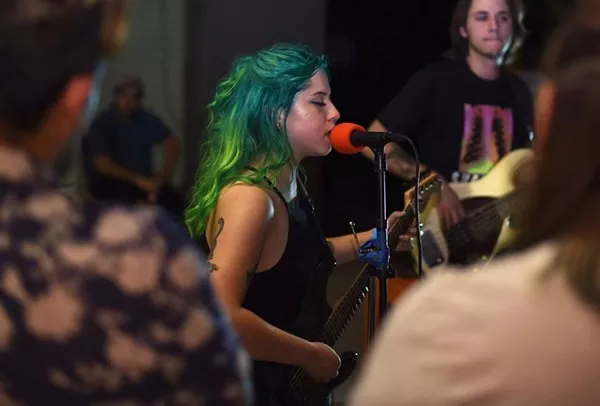 Billed as the offical "Band Merch Market" for the San Antonio Music Showcase, Hi-Tones will be a sort of one-stop-shop where show-goers can expect to pick up a number of assorted T-shirts, stickers and other miscellaneous merchandise from bands like Verisimilitude, Bright Like The Sun, and Levees, and other bands playing the showcases. On top the opportunity to directly support bands with purchases of their gear, attendees can expect to hear sounds from some of SA's best (and youngest) bands that subscribe to the garage/indie rock sound.
Fronted by Elena Lopez, who has led a number of well-known indie projects in SA, Elnuh, is a surfy, dream-garage outfit whose tracks sometimes have melancholy vibes despite the poppy vocal melodies that punctuate her songs. "Like, in the middle of night, what kind of music am I writing when I can't fall asleep? That's Elnuh," said Lopez. Which sort of makes sense as Lopez's lush vocals seem to effortlessly float over her fuzzy guitar progressions: a recipe for the perfect afternoon nap in a park or THC-fueled bike ride along the Riverwalk. For instance, on "May 2 June" off of The Split, a split EP with fellow SA indie rockers Booty Feet (who are also playing at the venue), Lopez whispers, "my friends all woke up late / and I'm all alone / recently it's hard / to feel anything at all" as echoing guitars ring over a bouncing drum beat giving listeners this feeling that they might actually be asleep and Lopez is leading them through a dream.
Also in this showcase are the aforementioned, Booty Feet, whose songwriting displays a sort of sophistication you'd expect from a band that have been doing this for years, not months. On their eponymous debut released earlier this year, beautiful jazz chords ring over dynamic drum fills as Escamilla's soulful baritone soars over indie rock that at times starts to tip-toe towards the edge of post-hardcore. Their sound is eclectic to say the least, but they manage to pull listeners through clouds of dreamy pop progressions that match the danceable rhythms — and somehow have it all makes sense. In a regional scene saturated with garage/psyche/indie/pop shit, Booty Feet certainly stand out from the herd.
Finally, Lloronas, who we consider one of the promising newish bands in town at the moment, will round out the night. While the foursome's driving, angular, and often danceable brand of punk rock is certainly nothing novel in this town, the songs themselves are unique and noteworthy, showcasing the young outfit's knack for hooks, for emotion that seems to lunge forward toward impossible crescendos, and for savvy lyrics, charged with political and social commentary. One listen to Lloronas' feminist anthem "American Puta" (that title tho!) will have you convinced that you need this band to shake up the pathetic simulation of safety that pervades your would-be progressive existence. Also: it rocks.

$5-$10, Friday, September 30, Hi-Tones, 621 E. Dewey Pl., hitonessa.com. For more information and to purchase wristbands visit sanantoniomusicshowcase.com.