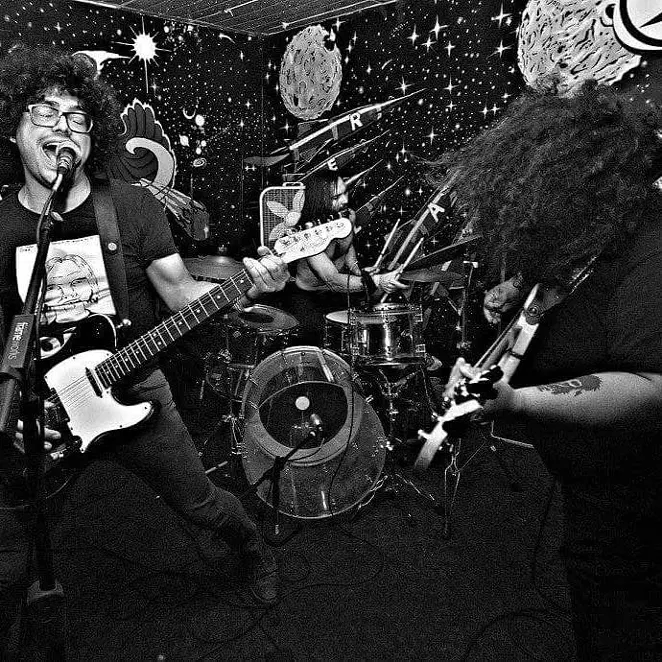 Armed with frozen daiquiri machines and classic cocktails that won't destroy your wallet, Rumble, which opened in early 2016, arrived on the St. Mary's Strip with automatic chill points. For this year's San Antonio Music Showcase, the bar will be home to all things punk rock and feature bands like Pinko, Blank Side, American Swine and Social Trauma.
A mash-up of raw intensity and ferocious shredding, Pinko's sound is smart, groovy and sure as shit not metalcore, despite the traces of hardcore punk that punctuate the music. Consisting of members from The Grasshopper Lies Heavy, Sohns and Ghost Police, it's not a surprise that their music is intense and chaotic. On the opening track of their spring split EP with Bummer, frontman Guillermo Mendez leads the trio with galloping, distorted guitar riffs and vocals that range from 1990s emo-revival shouting to super high-pitched screams that'll make you think of The Dillinger Escape Plan's Greg Puciato. Shit's noisy as fuck, but you'll be hard pressed to not wanna shake your hips.
Also on the bill is American Swine which reminds me of the quirkiness of early System Of A Down (if you can't appreciate those first two System Of A Down records GTFO, ya tragic hipsters). Combine that with traditional hardcore and you've got a recipe for punk rock that's unlike any band playing shows in SA.
Popularized by bands like Infest, powerviolence (if you didn't already know) is subgenre of hardcore punk that closely related to grindcore and thrash metal. Blank Side is a powerviolence band and the majority of their catalog is a A+ reflection of the genre. On their new single "Eventual Termination," however, the band returns to their hardcore roots but still manages to punctate the 2 minutes and 22 seconds with intervals of chaotic powerviolence.
Along with Social Trauma who combine everything from hardcore to grind, this particular showcase is shaping up to be pretty rowdy, bruh.

$5-$10, Saturday, September 30, Rumble, 2410 N. St. Mary's St., facebook.com/rumblesatx. For more information and to purchase wrist bands visit sanantoniomusicshowcase.com.