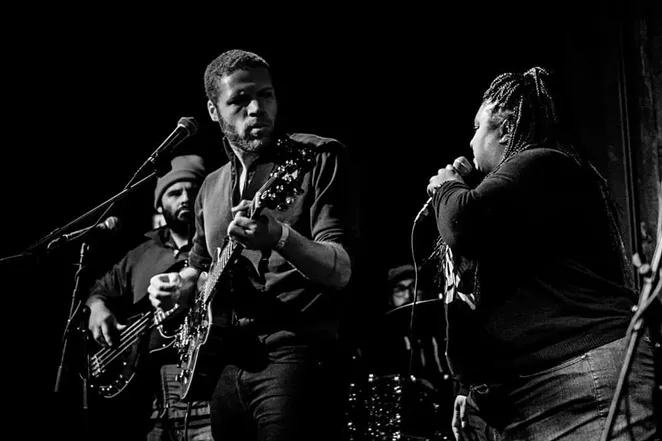 Oscar Moreno
The Foreign Arm

For those interested in a showcase of some of San Antonio's more traditional baby-making music, La Roca Cantina will host the soul, R&B and funk portion of the San Antonio Music Showcase. Located just off of north Alamo at 416 8th St., the 100-person max, 100-year-old bar serves up $7 house cocktails and a posh, but not pretentious atmosphere to bump and grind or just enjoy the music with a refreshment.


Alyson Alonzo, who, dare I say is at her best when working with other artists' material (see any of her work alongside the Youth Orchestra of San Antonio or recall her past covers of Ginuwine's "Pony," Nina Simone's "Be My Husband" or the Eurythmics' "Sweet Dreams") is one act to catch – if only to be able to weigh in on the hype swirling around the 30-year-old chanteuse. If you happen to miss her set, she hosts the weekly radio show Queer Vibes on Sundays from 11 to midnight on KRTU 91.7 FM, tune or call in and maybe she'll oblige you with some live, on-air crooning.


San Anto producer Mr. Pidge fuses elements of East Coast backpack rap with Slick Rick's knack for story-telling and components of Black empowerment and back-watching à la Brand Nubian. Alongside a feel reminiscent of the softer offerings of Kung Fu Kenny and the ever-sensitive Drake, Pidge's style is equally retrospective as well as current. But where Wu-Tang called on the principles and codes of Sun Tzu and the samurai, harkening back centuries to feudal Japan, Pidge namedrops '90s anime and programs 8-bit Nintendo beats on his 2017 EP Black Goku. His inclusion offers a shot of grit on the otherwise too-smooth bill.


Locals The Foreign Arm aren't afraid to step outside of the typical tropes of R&B, rounding out their sound with folk instrumentation and layers of smooth harmonies. Voracious, a local quintet whose "Black and Gold" is a swinging jazz-pop number, offer an eclecticism that they share with their SAMS counterparts, perfect for a down-to-earth but stylish spot like La Roca.

$5-$10, Saturday, September 30, La Roca, 416 8th St., facebook.com/larocacantina. For more information and to purchase wrist bands visit sanantoniomusicshowcase.com.