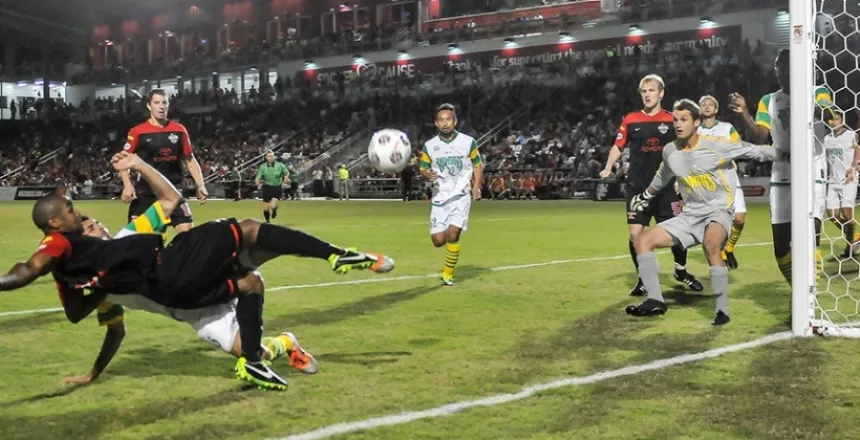 (photo courtesy sascorpions.com)
In front of a crowd of 8,117 fans that included Mayor Julián Castro, the San Antonio Scorpions lost 0-2 to defending champions Tampa Bay Rowdies Saturday night at Toyota Field. Even though the Rowdies were clearly the better team, the Scorpions again showed their usual fighting spirit and did have several chances to score, but wasted them through alarmingly poor finishing.
For the winners, forward Amani Walker (a constant nightmare for the usually solid Scorpions defense) scored with a superb header off a corner kick in the 12th minute, and Georgi Hristov added the second through a penalty kick in the 56th minute, after Scorpions goalie Pat Hannigan (who, as a last man, could've been sent off but only got a yellow card) fouled him after a lethal counterattack.
The Scorpions (0-1-1) started strong, with midfielder Edin Husic taking the first shot on goal 16 second into the game. Defender-turned-forward Lyle Martin was fast and strong, and the Scorpions showed clear offensive intentions. But it was soon obvious that the home team lacked patience and started a trend that would last until the final whistle: too many passes lost, and not enough speed and concentration to win loose balls.
Kevin Harmse almost scored an own goal but ultimately saved the Scorpions on the 11th minute after another great play by Walker. The corner kick that followed allowed Tampa Bay to score the first goal of the game. After that, the visitors controlled possession for most of the game, but the Scorpions never ceased trying and having their chances.
Husic had two more back-to-back clear chances at the end of the first half, but he hit the side of the net on the first and his shot went just wide on the second.
Soon into the second half, Husic missed another opportunity after a very dangerous counterattack accompanied by Martin and Pat Phelan, but they were too slow to resolve and allowed Tampa Bay (1-1-0) to regroup and clear the danger. Out of that play the Rowdies gave a lesson on fast breaks: precise passing, simple, effective soccer that forced Hannigan to foul Hristov inside the penalty area. It was 2-0 for the Rowdies, and it was all uphill after that.
On the 60th minute, Nikola Vasilic (who had replaced Ivan Milicevic) wasted a close range free kick for the Scorpions, and three minutes later Bryan Jordan replaced Martin. Unfortunately, Jordan got injured almost immediately running for a deep ball on the right side. He seemed to feel a pull in the back of his right thigh but, to his credit, he kept on running. Esteban Bayona (last season's second lead scorer) replaced Jordan and he showed great effort, making a good case for a starting position. He ran after every ball and had several chances, but also showed poor finishing. He also proved to be an unselfish player, when in the 69th minute assisted an unmarked Hans Denissen when he could've continued, but Denissen kicked it to Andrew Fontain's hands.
On the 79th minute there was another great run on the right by Bayona, who crossed the ball and all Vasilic had to do was touch it to score, but the forward seemed surprised by the ball's speed and all he could do was look at it. Two minutes later it was Bayona himself who missed an incredible chance, unable to properly connect the ball.
Vasilic seemed clumsy and slow, missing a good chance in the 86th, and Hristov almost scored the 3-0 for Tampa Bay with a close-range header. Just before the final whistle, San Antonio's Vasilic redeemed himself with a wonderful assist to Denissen, who this time executed a near-perfect shot on goal but Fontaine had the best save of the game.
It's still early in the season, and Scorpions coach Tim Hankinson proved last year he knows how to adjust things and make a competitive team. The Scorpions didn't have a good game, but had enough chances to tie the score or even win, but also they could've lost 0-3. The team now has two weeks to make some changes.
"We made two mistakes tonight," said Hankinson after the game, which was shown live on KSAT 12. "We didn't clear a ball that turned into a corner and then a breakdown which led to the second goal. We created some good chances but our execution was poor. We have a lot of work to do to get on the same page as a team. The [two-week] break helps us because we need more time and the next two weeks is like a preseason to us."
The Scorpions' next game is April 28 at FC Edmonton, to return to Toyota Field May 4 against the Atlanta Silverbacks. Click here for single tickets and here for season tickets.