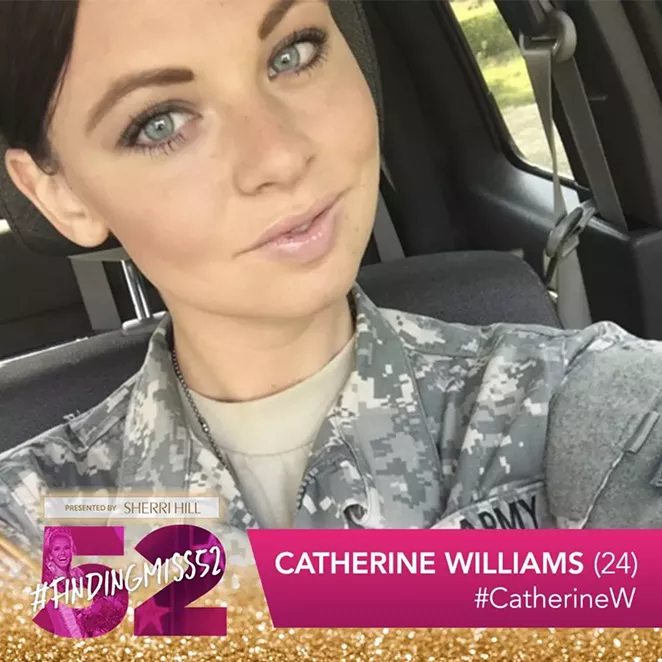 Courtesy
San Antonio native Catherine Williams is vying for the final spot in the 2016 Miss USA pageant, which airs on Fox June 5.

There is one spot left for a contestant to enter the 2016 Miss USA pageant on June 5. And it's possible she could be from San Antonio.

Along with the 51 contestants representing the 50 states and the District of Columbia at this year's pageant, officials have opened a 52nd spot for a contestant voted in as a fan favorite.

After a nationwide search, 10 women have been chosen as finalists for the last available spot. One of them is San Antonio native and U.S. Army soldier Catherine Williams.

According to her Facebook profile, Williams, 24, studied public relations at UT-Austin and was an undergraduate research assistant. She is also a first generation college student and a Division 1 athlete. She considers herself "more than what meets the eye."

"I represent something that is not perfect, but something that is real," Williams' Miss USA profile reads. "I am not polished to perfection. I am strong and I am a fighter. I represent the real beauty, bravery, and confidence that our country was founded on."

Also named a Top 10 finalist is Yvonne Vega from New Braunfels, Texas.

To vote for Williams, visit the Miss USA website here. You can also vote on Twitter by using the hashtags #FindingMiss52 and #CatherineW. Voting is allowed up to 10 times a day per registered voter. Voting closes May 17.