It might be a futile effort to recap a booze-filled evening, but I'll give it a go. I find the best way to remember the previous evening's festivities is taking numerous photos...so let's piece together Thursday's Opening Night Party, shall we? (Disclaimer: The Majestic is dark and I have an iPhone 4S, so grainy photos will ensue.)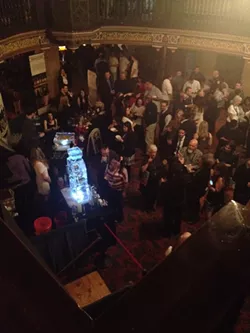 Regardless of what time you made your grand entrance, the action kept flowing so wait times stayed at a minimum. And if there was a line for drinks, attendees had 20-or so other stations to choose from.
The Umai Mi staff was once again out, showcasing menu items from the soon-to-open restaurant. And I do mean soon, keep your eyes peeled for opening dates.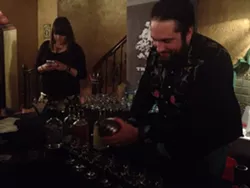 Treaty Oak Distilling was cranking out a slightly spicy honey daiquiri from what seemed to be the largest shaker in the world. Bonus points for the snazzy shirt.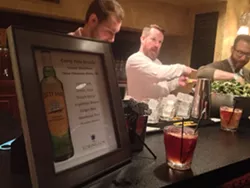 Another highlight of the evening came via this rather fruity scotch-based cocktail. The beardy 'tenders were a nice touch.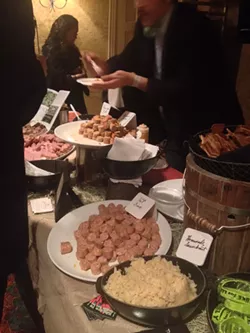 Said cocktail paired excellently with the charcuterie sampling offered by joint table Lüke Riverwalk and Restaurant Gwendolyn. The chorizo, topped with the cumin and coriander-loaded aioli, was particularly drool-worthy. Chef Michael Sohocki carries similar sausage offerings at the Pearl Farmers Market on Saturdays.
I was unfortunately the witness to one of the party fouls during last night's event: an unnamed attendee upchucked at around 8:45 in the evening. Majestic staff took care of the sitch most effortlessly. Reminder: It's a marathon, not a race.
Made-to-order cocktails are great, but there's something to be said for punches...especially those filled with cognac and served by French bartenders...just sayin'.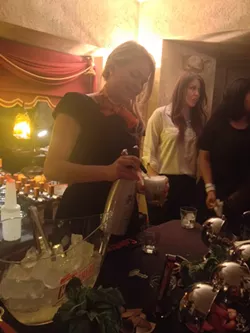 Then again, this year's opening night held a fun interactive element via Cointreau. Attendees would choose fruits, muddle them and brand reps would top off the drink with carbonated Cointreau. I make a mean cucumber mint drink, if I do say so myself.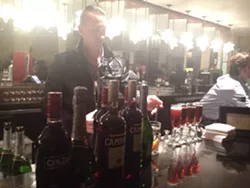 The Majestic's actual bar was the home of several cocktail stations. My personal nightcap came via a sbagliato (the G is silent) or mistaken Negroni. Honestly, anything topped off with prosecco can't be that bad, can it?