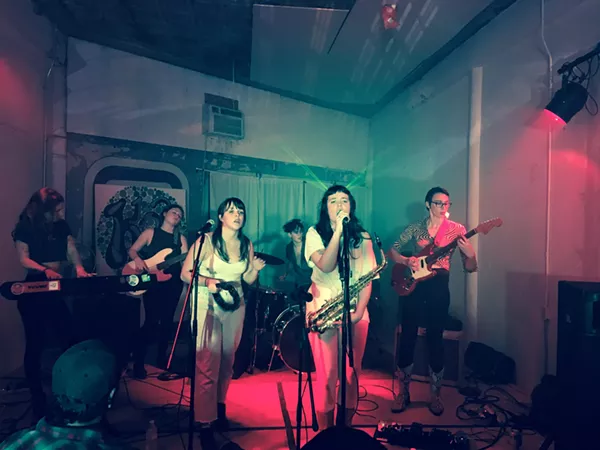 Chris Conde
Sailor Poon playing K23

"Starburst is the perfect candy," a friend says, noticing me clutching a pack of the juicy goodness as a group of us chatted under the first full moon of 2017. We all laughingly agreed and reminisced about how dope the chewy squares really are. We were at K23 and this venue feels like home. Not only by the casual talk of confectionaries with friends I've known for years, but also because it's literally four blocks from my apartment. Operated by Glenn and Gem Hotvet, the local DIY venue has been generating a regional buzz for
booking killer alternative acts since its doors opened in 2014.
Opening last night's show was PLAX, a hardcore(ish) punk band based out of Austin. At the beginning of the second song, the singer intentionally kicked over his mic stand, which pulled out a cable and caused him to lose amplification to his voice. With his band pummeling through the song, the singer, outwardly unaffected by the predicament, shouted the lyrics into the air and kept their angsty youth energy alive and moving.
After PLAX came True Indigo, a project started by former Crown members Oscar Webber and Carlos Zubillaga. Channeling the psychedelic surf rock of the 1960s with the help of trippy visuals from The Bilo Effect (K23's resident light and effects crew), True Indigo took us through an acid trip-inspired rock and roll experience.
Closing the show were Austin's resident riot grrrls Sailor Poon. I'd been waiting a while to see these twisted sisters rock and they did not disappoint. Sailor Poon is good. Not "good for being girls,"
as some idiot bros still echo about female musicians, but good for being just plain fucking
good
. The six-piece surfy, punky, weirdo-psych band slammed the audience through layers of reverberating female energy with dynamic instrumentation and flagrant lyricism, bringing about yet another satisfying close to a fun evening at K23.