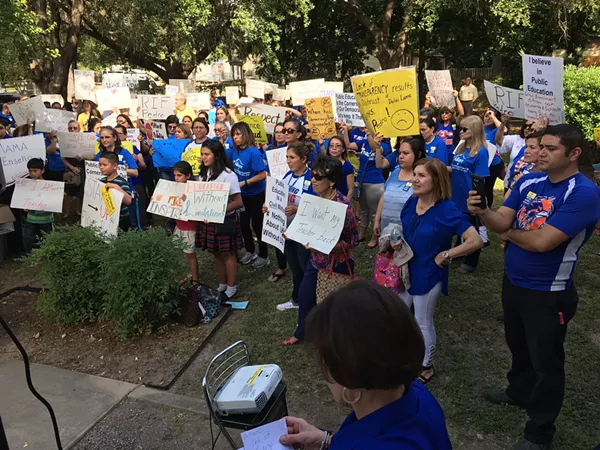 For weeks, teachers in San Antonio ISD had known layoffs were coming. Declining enrollment led to a projected $31 million shortfall, and the board had already given the green light to Superintendent Pedro Martinez to consider a "reduction in force," or "RIF," to help stem the budgetary bleeding.
On May 8, the Tuesday before Teacher Appreciation Day, the San Antonio Alliance of Teachers and Support Personnel posted an ominous status update on its Facebook page:
"The district has started calling in teachers to HR for the RIF. Please make sure members know not to go by themselves and not to resign. They need to contact our Alliance office immediately if they are told they need to go to HR."
The cuts had begun.
By the end of the week, 132 teachers and 31 administrators had been given the chance to resign ahead of termination. By the time the SAISD board met on the following Monday, in a room packed with blue-shirted union members, some carrying handmade "RIF Pedro" posters, only 25 of the "RIF'd" teachers had not resigned.
This was not the first meeting of the year to see a crowd of protesting teachers. They've shown up periodically since Superintendent Pedro Martinez announced a partnership with Democracy Prep charter schools. Union members' anger toward the board has been rising also because the elected trustees have consistently supported Martinez's efforts to right the listing district.
On May 14, the day of the board meeting, the RIF took these tensions to a new high – and they're likely to increase.
A RIF Over Contracts
This is one reason: because the layoffs were the result of a board-approved RIF, the teachers with "continuing" contracts will not have recourse to the third-party hearings they would have had in a normal year. In other words, it's easier and less costly for the administration to sideline them.
Those hearings are expensive, and if it weren't for the special circumstances of the RIF, the district would have stood to spend a chunk of the money it'll save by trimming its workforce.
In 2015, 2016 and 2017, the district paid an average of $100,000 per year in legal fees associated with termination hearings for ten teachers under continuing contracts, according to documents obtained through an open records request. The legal fees average out to around $30,000 per firing. However, district spokesperson Leslie Price said that doesn't include hearing examiner and court reporter fees, which together can exceed $10,000 per case. The average teacher salary is $54,000.
Under normal circumstances, it's almost as expensive to fire a teacher as it is to hire them. In one case, the $63,400 in legal fees alone exceeded the maximum teacher salary in the district.
Investigations in New York and California – where teacher contracts are far stronger than they are in Texas – found that protective contracts offered a significant financial disincentive to fire a teacher.
Critics of continuing contracts claim they protect bad teachers.
Proponents argue that, in fact, they do the opposite. They protect good teachers.
"One of the main benefits of continuing contracts is ensuring that the best, most experienced teachers stay with a school district. This benefits the teacher, the district and the students," Texas State Teachers Association spokesman Clay Robison said. He argues that job security is a draw for talent, especially in a field with low pay and other challenges.
Some compare continuing contracts to teacher tenure, a system that makes it more difficult to fire a teacher without good cause. The Texas education code defines as "the failure to meet the accepted standards of conduct for the profession as generally recognized and applied in similarly situated school districts in this state."
It does not say anything about a teacher's classroom performance or student outcomes. During the RIF, the administration has based termination decisions on one year's worth of classroom observation and evaluation.
For as long as Toni Thompson, SAISD's executive director of human resources, has been with the district – 33 years – teachers have had continuing contracts.
The Texas Association of School Boards regularly surveys its members on teacher contracts. In 2017, only 271 responded. Of those, only SAISD offered continuing contracts to its faculty. Under a continuing contract, a teacher being fired has access to a costly appeal process. The majority of other districts offer only "term" or "probationary" contracts, which the district can easily choose not to renew at the end of a school year. SAISD also issues probationary contracts for new teachers and term contracts for coaches and other special positions.
SAISD teachers also receive both Social Security and teacher retirement benefits, which are not required by law. Districts are only required to provide one or the other. Last year, the district put $23.1 million into its Social Security for All fund.
Fuel to the Fire
Continuing contracts and Social Security benefits have made SAISD a pretty stable gig, so it's easy to understand why the RIF terminations came as such a shock.
Sixty teachers, many of whom had already resigned, signed up to speak during the "citizens to be heard" portion of last week's meeting. They characterized the cuts and how they were carried out as "ruthless," "heartless," "disgusting," "despicable," "inhumane," and "disturbing."
They called into question the accounting behind the projected shortfall and the evaluation process used to identify those teachers who would be laid off. Rumors of blacklists continue to swirl, with letters posted online from assistant principals who claim they were given a list of teachers to target for termination. Alliance President Shelley Potter called for an independent investigation into a "conspiracy to defraud teachers of their job."
The Alliance Facebook page repeatedly to refers to the RIF as a "scandal."
The district denies any wrongdoing or shady accounting.
The conflict came at an already difficult time for the district, as tension with the Alliance has been building since January 22, when the board voted to pursue a relationship with charter network Democracy Prep to operate Stewart Elementary. The union sees the move as "selling out" to charter networks, whom they characterize as private actors, though Democracy Prep will be authorized by SAISD and accountable to the board for meeting performance goals.
The battle has been both pitched and litigious. Weeks ago, signs began appearing around the district casting Martinez as an enemy of SAISD. The union has also filed suit to stop the Democracy Prep partnership. The Alliance claims the district violated the "community consultation" clause of SB 1882, the 2017 law that will provide additional funding to Stewart under the Democracy Prep partnership.
District officials are confident they met the community consultation requirements through parent and staff meetings the week before the board vote. Partnerships with charter networks are legal in Texas, and it's unclear whether violating the rules of SB 1882 (which, again, the district claims it did not) would be enough for a judge to stop the partnership from moving forward.
So, that's where things stand – lawsuits, posters and protests.
As in any troubled relationship, actions that before would have been irritating have become incendiary. The board did not waive the one-hour limit on the "citizens to be heard" portion of the May 14 meeting, meaning that each speaker only had one minute. In a text message, Potter called the move "disrespectful and totally lacking in compassion" for the teachers and staff who had just been laid off.
The union is not certain yet how many teachers will appeal their terminations under the special circumstances of the RIF.
Martinez isn't the only one these teachers are pissed at. At last week's meeting, teachers and their family members vowed to run and campaign against incumbent board members in their next elections.
Once the board makes its RIF decision, teachers can appeal again to Texas Education Commissioner Mike Morath. He cannot overturn the decision, "unless the board's decision was arbitrary, capricious, unlawful, or not supported by substantial evidence."
Given the climate thus far, it wouldn't be surprising to see teachers try to make that case.
Stay on top of San Antonio news and views. Sign up for our Weekly Headlines Newsletter.