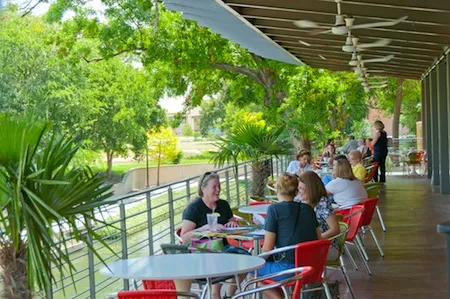 Want to open a new restaurant on the Museum Reach stretch of the river, with plenty of parking, and an upscale partner that will drag in traffic? Hot shot restaurateurs -- here's your chance. By mutual agreement, Damien Watel's Café des Artistes is closing business soon at San Antonio Museum of Art, and SAMA is looking for a new dining partner. All we ask is that you establish a cigar smoking area outside  so Current critics can enjoy extended stays at your new joint.
Here's a few words from the RFP:
"The San Antonio Museum of Art  is looking for a restaurant that offers a casual dining experience with an upscale 'vibe,' serving fresh, seasonal food. Our goal is to have a restaurant that is both a destination unto itself and a reason to visit the Museum. The restaurant is a highly valued visitor amenity and an important face of the Museum. We want it to be a source of profit for the restaurateur and the Museum. While the Museum wishes to be a marketing partner of the restaurant, the restaurant will be independently operated by the restaurateur.
The selected restaurateur could also be the preferred caterer for frequent small and large receptions and events at the Museum. There is potential for future growth (even a second food outlet) on the campus. This might take the form of an exterior food cart in the courtyard or an over-the-counter area in the restaurant."
For full RFB guidelines contact Cary Marriott,  Director of Marketing, San Antonio Museum of Art, at cary.marriott@samuseum.org. Submissions due Feb. 11, 2013
To sweeten the pie, there seem to be opportunities to enlarge the current restaurant space -- maybe put in a full kitchen. Any takers?