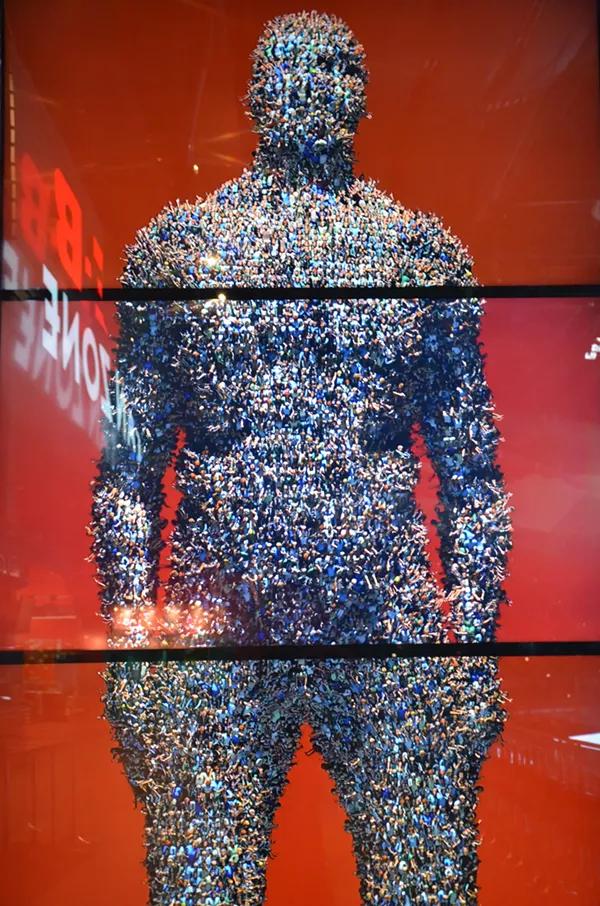 Bryan Rindfuss | San Antonio Current
A couple of weeks ago I was treated to a tour of the AT&T center
to see its 200-piece-plus art collection
.
One of my favorite works was in the H-E-B FanZone. It's called "The Sixth Man," and it's a creation of Guy Hundere, a multimedia artist.
The 10-foot-tall animation is an ode to Spurs fans.
"The projection itself required 10,000 individually animated persons," Hundere explained. "In order to do that, I had to buy a new computer that was the fastest I could get … it was water cooled."
Furthermore, he acquired a library of motion-captured data.
"It had a whole variety of different movements. There was fist pumping, waving your arms over the head, looking left and right, jumping up and down, being bored, being surprised and, altogether, I think there were 40 or 50 behaviors that I grouped into different levels of excitement," he said. "And each individual agent cycles through a certain set of behaviors based on rhythm I set that corresponds with that big guy."
Hundere had previously done work with flocking algorithms and researched the dynamics of crowds, which factored into his approach. He was also inspired by a Thomas Hobbs book called
Leviathan
, which has a drawing of a king in it that was made up of a bunch of tiny people.
"So, yeah, that gave me the idea, a man of man; a depiction of how the crucial element of the fan fits into the whole equation of what happens in the arena," he said.
Initially, Hundere planned a large projection that would have been 120-feet wide, but, technically, it was too much of a challenge.
However, he plans to install another one next to the trophy case, which is still being built.
"I think this one is going to be a little more legible because it's quieter down there," Hundere said. "I like the one on the balcony because you can stand at the rail and see ten thousand people all around you."