13 Hours: The Secret Soldiers of Benghazi (R) • Personally, I couldn't have made it through 2016 without knowing what Michael Bay thinks about Benghazi. Some people would like you to think that the schlockmeister's impressions of the incident are all nice and apolitical; star John Krasinski told Stephen Colbert that 13 Hours takes no stand beyond saluting the brave men who tried to save the lives of our representatives abroad. Christ, even the shortest TV clip shows that the picture hews to the Breitbartian fantasy of some sort of stand-down order that ensured the eventual catastrophe. Now millions of viewers are going to swallow this codswallop as fact — and conveniently just in time for a national election. Why didn't they just title it Citizens United?
Rob Schneider voices the polar bear on a mission.
Norm of the North (PG) • Remember when Heather Graham tried to jump on the Sting bandwagon by revealing to the world that she, too, practices tantric sex — then swiftly clarified that her version of the activity includes frequent breaks to get something to eat, go to the bathroom and maybe even ride out the presidential primary season? It was kind of like that Steven Wright joke about the convenience store that stays open 24 hours, just not in a row. If you've been wondering what Graham has been up to lately, the answer is obvious: Helping Rob Schneider heat up the Antarctic. Graham joins Schneider in the voice cast of Norm of the North, the story of a crusading polar bear who tries to save his home from developers. Sadly, Graham voices one of the human characters, not one of Norm's so-called "fuzzy sidekicks" (because that would make my job too easy). Either way, the movie is bound to be hours of fun for the whole family. Just not in a row.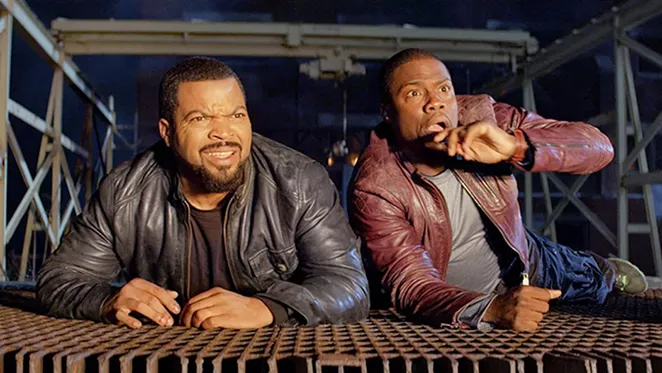 Ride Along 2 (PG-13) • Now that it's guaranteed Tim Story will not be remembered as the only director who ever fucked up the Fantastic Four, he's free to go on with his career. And he'd really like you to remember that — before he turned Galactus into a disembodied cloud — he made the thoroughly respectable Barbershop with Ice Cube. Ever the pal, Cube has allowed Story to ride along with him and Kevin Hart in the second installment of their action-comedy franchise. Heck, if the movie is a hit, maybe Cube will take them both to the Rock and Roll Hall of Fame dinner. Because wouldn't you love to see Steve Miller trying to explain that one to Ritchie Blackmore?
All three films are currently playing in local theaters.