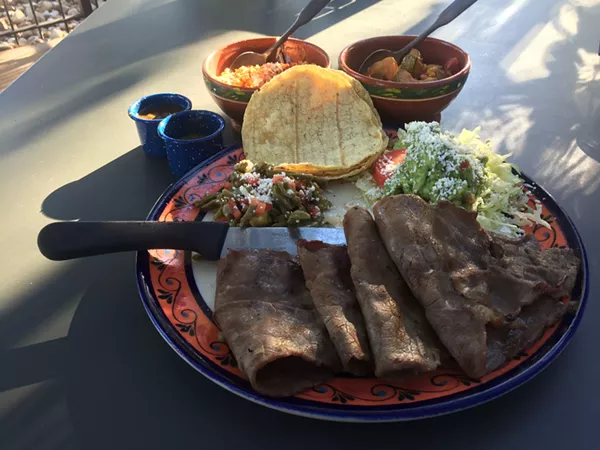 Cecina Asada de Yecapixtla with nopalitos, tortillas, guacamole, salsa, and sides
We're compiling a list of our favorite 100 dishes in the city with the San Antonio 100. Check back weekly for a new dish we love that either screams SA or you need to enjoy ASAP.

It should be no surprise that Johnny Hernandez, the chef behind El Machito, The Fruteria, and La Gloria, a man so recognized for his mastery of Mexican cuisine that the Obamas invited him to cook for Cinco De Mayo this year, has declared that cecina asada de Yecapixtla is one of his most treasured recipes.

The designation makes sense, as it tends to be that the more talented a chef becomes, the more they esteem subtlety. Their effort goes into paring down recipes, removing nonessential items until they are left with nothing but the naked soul of the dish. After all, making a handful ingredients sing takes more talent than coaxing a tune out of a choir.

In the case of Hernandez, his great achievement is not in creating a new dish, but in reintroducing a classic. Hernandez' recipe, which borrows from the traditional method popularized in the city of Yecapixtla, requires the meticulously slicing a round of beef back and forth, thinly, from top to bottom, until you are left with a long, unbroken sheet of meat; as Andrew Zimmern discovered, this is difficult. Salt is then applied and the beef rests in the sun for an hour.

The method, which borrows from a tradition more than 200 years old, utilizes the salt to first draw liquid out of the meat, then slowly work its way — via the water — back into the meat, where it then begins destabilizing the deep muscle tissue, resulting in a tender final product. After the salt has done its work, Hernandez splashes the ribbon with olive oil and lets it cook, though indirectly, over a mesquite flame. The result is unglamorous, similar looking to a cutlet in its flat, thin shape, but with a remarkably delicate chew.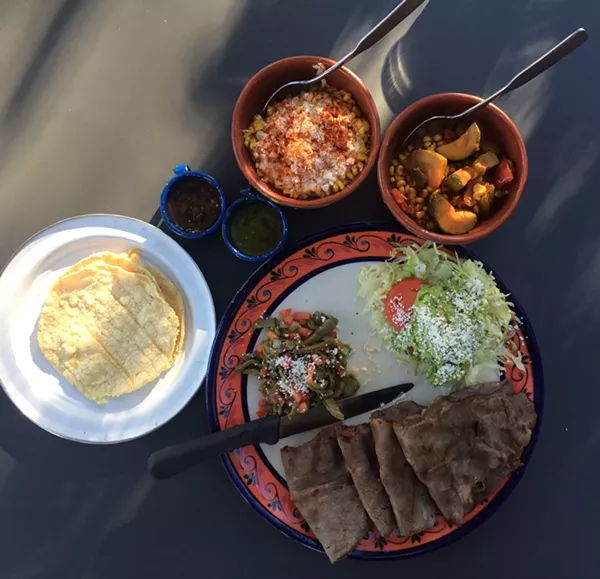 What makes the beef memorable
is that succulence usually requires thickness; as the phrase goes, you "bite
into" something. What the cecina asada de Yecapixtla accomplishes, though, is to
produce that same tenderness, that same satisfying, carnal toothsomeness you
get in bloody steak and roasted chicken, but in a thin, brown, unassuming slice
of meat.


Served alongside nopalitos,
guacamole, salsa, house-made corn tortillas, and two sides of your choosing,
the tacos are a masterclass in harmony: cold and hot, crunchy and tender, fresh
and aged. Never though, as is the case with so many tacos, does the taste of
the meat get overpowered. The salty, smoky, buttery bite of the cecina reminds
you in every bite that it is the reason you came.


7300 Jones Maltsberger Road, (210) 314-3971.

For more, follow Mark on Instagram and Twitter.