Leave it to San Antonio's Vidvad Scare to make sure we get a glut of spooky content right at the start of Halloween season.
Scare's giving locals the heebie jeebies with his latest solo exhibition, "Pareidolia Nightmares."
Pareidolia is a phenomenon in which people incorrectly perceive patterns or meaning in random or ambiguous stimuli, including everything from seeing shapes in clouds or Jesus on a piece of toast to hearing hidden messages in music played backwards. The phenomenon is often associated with seeing faces in inanimate objects, like the infamous
Face on Mars
.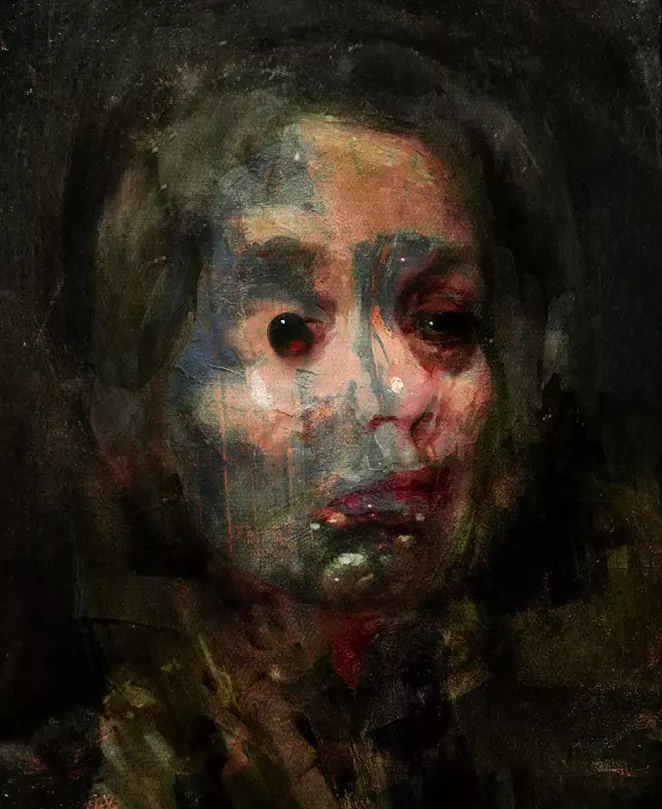 Though painted portraits generally intend for the viewer to interpret the artist's brushstrokes as a person's likeness, Scare's grotesque paintings test the limits of what we can still recognize as a human face — from
The Hills Have Eyes
-esque mutants to a feminine visage whose left half is melting down the canvas.
The show can be seen by appointment at Blue Star gallery Bear & Ink or toured online using the Matterport platform starting the evening of Friday, October 2.
Free, on view by appointment through November 1 or via Matterport digital tour, Bear & Ink, 1420 S. Alamo St. S204, bearandink.com.
Get our top picks for the best (online!) events in San Antonio every Thursday morning. Sign up for our Events Newsletter.