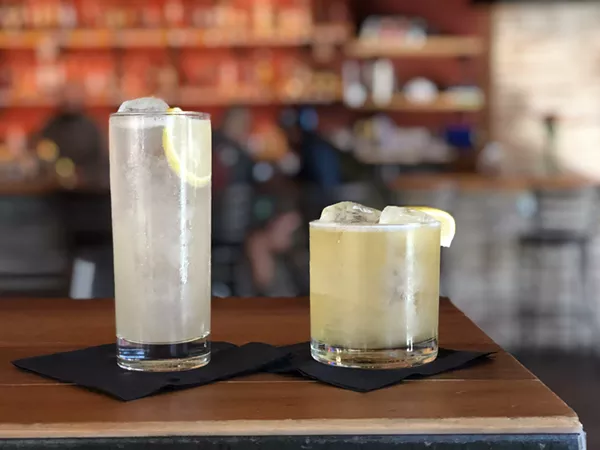 Jess Elizarraras
The Song of Rebellion (left) and Connecticut Casual (right) will raise funds for S.A. Youth Literacy at Still Golden Social House.
The night before Thanksgiving is ripe for debauchery. All your friends are in from out of town, and the desmadre leading up to a perfect hangover Thanksgiving meal is here.
Still Golden Social House
is enticing bar-goers to join them for Drinksgiving on Wednesday, November 21 from 9 p.m. to close with homemade pecan and buttermilk pies.
Stop in for a slice and pair it with the bar's two new charitable drinks with $3 of each drink donated to S.A. Youth Literacy. At $10, the Song of Rebellion (Waterloo gin, lemon, guava nectar, Topo Chico and optional CBD oil topper, the first of its kind in San Antonio) and Connecticut Casual (Tromba tequila, cinnamon, lemon and apple cider) are $10 a pop. Or keep it non-alcoholic with choice of raspberry, guava, lime and Topo Chico for $6 with a portion of the proceeds benefiting
iheardyou.org
, a local support group for people in the service industry.
So many restaurants, so little time. Find out the latest San Antonio dining news with our Flavor Friday Newsletter.