The popular storytelling showcase, The Moth Mainstage, is returning to the Majestic Theatre on April 6, as part of the 6th annual San Antonio Book Festival (SABF) weekend. The lineup of five talented storytellers will share their take on the theme of the night: "Standoff." Tickets are available on
Ticketmaster
and at the Majestic Theatre box office.
The Moth
is a national not-for-profit organization that has presented more than 30,000 real stories through live storytelling since its inception in 1997. The Mainstage event is the Moth's flagship program. It features five storytellers exploring a selected theme, often in unexpected ways. Each story is true and told without notes, resulting in a mix of documentary and theater. The Moth Radio Hour airs on more than 460 stations, including
Texas Public Radio
, and the podcast is downloaded more than 47 million times a year. But the ideal way to experience The Moth is live and in person.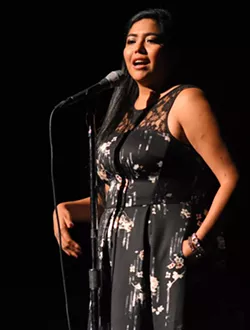 "We had an inkling that The Moth was a perfect event to add to Book Festival weekend," said Katy Flato, SABF's executive director. "The success of last year's show proved our instinct was right. The storytelling that happens on The Moth stage is a natural segue to the storytelling that people of all ages can experience at the Book Festival. It's a wonderful pairing where the spotlight is really on stories."
"We had such a blast at last year's book festival and are thrilled to be returning," said Catherine Burns, artistic director of The Moth. "The Majestic Theatre is spectacular—one of the most beautiful in the US—and we adored the book festival crowd. So special to be in San Antonio for the big 300-year celebration!"
The San Antonio show will include a diverse assortment of five storytellers: a Bronx-born jewelry designer, artist, and griot; a life and desire coach; a staff writer at
The New Yorker
; a globe-trotting author from Corpus Christi who just left Planet Cancer; and the co-host of a Houston radio program devoted to live storytelling. The show will be hosted by David Crabb, an author, comedian, storyteller, and native of San Antonio.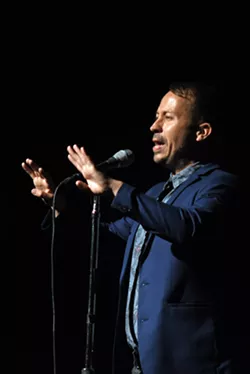 The Moth Mainstage in San Antonio is generously underwritten by Ricos Products Company. The show is Friday, April 6 at 7:00 p.m. (doors open at 6:00 p.m.) at the Majestic Theatre, located at 224 E. Houston Street. Tickets are $25-$45 general admission and $100 for a VIP ticket. The VIP package includes premier seating and the opportunity to meet and greet The Moth storytellers and producers after the show at the exclusive VIP party, sponsored by 1010 South Flores, for SABF authors and sponsors, which starts at 9:30 p.m.

About the host:
David Crabb is a writer, actor, Moth host, and storyteller in Los Angeles. His solo show
BAD KID
was named a New York Times Critics' Pick.
Bad Kid
, the memoir, was released in 2015 by Harper Perrenial. David has directed and taught storytelling in the US, Australia, Ireland, and Canada with The Moth, The Story Studio, Upright Citizens Brigade and his storytelling/memoir school, Crabb Labb. His next memoir comes out later this year.
About the storytellers:
Phyllis Marie Bowdwin
, a Bronx-born artist, jewelry designer and griot, captures her people's stories through her writing and her art. She was a Teacher Trainer for the New York City Department of Education, Crisis Intervention Counselor for the Marble Collegiate Church, and Coordinator of Daytime Casting at ABC. Her Middle Passage Maafa brooch was featured in the Styles section of
The New York Times
, exhibited at the New York Historical Society, and acquired for the Smithsonian's Cooper-Hewitt National Design Museum. She holds a B.A. from The New School and an M.A. in Education from Adelphi University. A 2013 BRIO award winner for literature, her short stories have been published in the Bronx Memoir Project and the UFT's Reflections Magazine. As a volunteer at the Neighborhood Women's Collective, she mentors and conducts life skills workshops for women and girls. Known as the Bronx Pickle, the Quiet Fire, and that nosy, trouble making #$%@&*, Phyllis is currently completing her first volume of short stories.
Ana Del Castillo
is a life and desire coach, leads courses in personal transformation, specializing in women finding their power, rightness and voice, and she also owns her own interior design business. She has performed on Broadway and on tour as an actress and singer, belting out songs and acting her way through other writer's written words. Ana is thrilled to be "performing" her own words at The Moth – a true dream come true! Heartfelt gratitude and love goes to her rock-star friends, her wonderful Cuban family, the incomparable Seth Barrish, and her constantly shedding dog, Tobey.
Adam Gopnik
has been a staff writer at
The New Yorker
since 1987. During his three decades at the magazine, he has written fiction, humor, memoirs, critical essays, and reported pieces from at home and abroad. His many books include
The Table Comes First
,
Paris To The Moon
, T
hrough The Children's Gate
, and most recently,
At The Strangers' Gate
. A musical written in collaboration with the composer David Shire, The Most Beautiful Room In New York, opened last May at the Long Wharf Theater in New Haven, and his one man show
The Gates
, based on material developed with The Moth, played for a sold-out week at New York's Public Theater in January.
Stephanie Elizondo Griest
is a globe-trotting author from Corpus Christi, Texas. Her books include the award-winning memoirs
Around the Bloc: My Life in Moscow, Beijing, and Havana
;
Mexican Enough
; and
All the Agents & Saints: Dispatches from the U.S. Borderlands
as well as the best-selling guidebook
100 Places Every Woman Should Go
. She has also written for the
New York Times
,
VQR
,
The Believer
, and the
Oxford American
, and she edited
Best Women's Travel Writing 2010
. Currently Assistant Professor of Creative Nonfiction at the University of North Carolina at Chapel Hill, she has lectured on five continents, including as a U.S. State Department literary ambassador to Venezuela. One place she was thrilled to leave was Planet Cancer. She's been in remission since December.
Warren Holleman
is the author of four award-winning plays. He co-hosts
So, What's Your Story?
, a radio program devoted to live storytelling, on 90.1 KPFT Houston and edits stories for an e-magazine called
Pulse-voices from the heart of medicine
. With his brother, Toby, he has written a book telling the amazing story of their hometown:
Pluck, Perseverance, and Paint: Apex, North Carolina: Beginnings to 1941
. Warren says he grew up pretending not to listen to the stories his father, uncles, and other "old" people told as they hunted quail, barned tobacco, or relaxed on the porch or in front of the fireplace. It recently dawned on him that now he's one of those old people, re-telling those wonderful North Carolina tales and a few of his own. Warren recently retired as Professor of Behavioral Science at The University of Texas MD Anderson Cancer Center in Houston. When he is not writing plays or telling stories, he enjoys trail running, mountain biking, and baseball
About the Book Festival:

SABF celebrates national and local authors and their contributions to the culture of literacy, ideas, and imagination. The 6th annual SABF takes place Saturday, April 7, 2018 from 9:00 a.m. to 5:00 p.m. The free, daylong event is a gift to visitors and the citizens of San Antonio, bringing books to life through author presentations, innovative panel discussions, and book sales and signings. Also included in this fun day of literary entertainment are family activities such as children's theater performances, a technology area, interactive play and art stations, and a selection of the city's famous food trucks. SABF offers learning experiences for readers of all ages and interests. SABF is the signature program of the San Antonio Public Library Foundation. SABF's founding partners are the Central Library, the Southwest School of Art and the Texas Book Festival.