If we're to believe David Brooks, columnist for The New York Times, one must possess at least a bachelor's degree to enjoy a charcuterie board these days.
In his recent column, "How We Are Ruining America," in which he tackled America's upper-middle class culture, Mr. Brooks detailed a lunch with a friend who — gasp — only has a high school degree.
"Recently I took a friend with only a high school degree to lunch. Insensitively, I led her into a gourmet sandwich shop. Suddenly I saw her face freeze up as she was confronted with sandwiches named "Padrino" and "Pomodoro" and ingredients like soppressata, capicollo and a striata baguette. I quickly asked her if she wanted to go somewhere else and she anxiously nodded yes and we ate Mexican."
Watch out, your privilege is showing.
Yet, in a city replete with Mexican restaurants and with a median income of $55,775 as of 2015 according to census numbers, San Antonio reserves a week in July to preserving the art of charcuterie.
Don't be frightened or put off by the very French word for the techniques used to cure and preserve meat products before refrigerators were a staple in each home. Indeed, charcuterie hearkens back to much, much, much simpler times — though not always easier.
"We have given up what our grandmother, grandfather, tribe, or community used to know and took convenience instead. We enjoy that in the short term, and no one is cognizant of the fact that this is the heritage you're leaving for your children," said founder chef Michael Sohocki.
Let me tell you, there are only a few things more stressful than having a James Beard-nominated chef rummage through your work fridge during an interview to pull out a deli turkey wrapper as a way to stress our declining food legacy.
Charc Week, which Sohocki launched in 2012, is a way to honor those traditions born out of need that have been lost since the Industrial Revolution. The subject matter is so important to the chef that he opened his first restaurant, Restaurant Gwendolyn, with a kitchen almost completely devoid of modern electronic appliances.
Photo by Jessica Elizarraras
"We need to take people who are asleep at the wheel," Sohocki said while on the subject of cultural amnesia, "and have them sit up and think not how, but about the why."
For Sohocki, who works with a rancher out of Fredericksburg to procure whole pigs, using the entire animal is key. Back when our great-grandparents would butcher an animal, he argues, the community would "get while the getting was good" and then save the remaining bits and pieces to enjoy in months when meat and produce weren't always accessible.
"Animals come to us whole. Charcuterie is a commitment of many months or years of that person who tended to the animal, that land, the grass it ate, the tender leaflets at the tips of tree branches — all those things are concentrated in an animal or plant … "
That means getting down to the nitty-gritty of the pig, lamb, goat and making do with the skin, the liver, the hearts, the head of the animal. The uses for saving these bits and pieces don't always boil down to sausage.
"They come down to us in the form of casing on the outside of sausage. Scotland has its haggis, Mexicans have their brains and chicharrón. These are vestigial implements for earmark ingredients and behaviors from a culture that was making do," Sohocki said.
In order to take on the contemplative nature the week requires, the charc celebration usually takes place the last week of July when San Antonio restaurateurs hit a summertime lull and staffs can take a breath and dive deep into the subject. Participation in Charc Week does come with a set simple rules: "participating restaurants must be in control of their own menu; they must make everything on the plate (other than naturally occurring components like salt crystals or honey), and each plate has to have at least four meat or meat-like items." A portion of the proceeds is to be donated to the San Antonio Food Bank.
Participants include the usual suspects, and a few wild cards.
Because of storage limitations, Boiler House can't carry a full list of charcuterie, so chef Jeff White and his staff use this time to go above and beyond. Expect a guanciale or pork jowl that's been wet-cured for two weeks, air-cured for another two weeks, and hung in a cooler before being fried up in thin strips and plated by White and co., who uses the week to think outside the box. There'll be a Tuscan finocchiona or fennel-infused sausage in the mix along with headcheese (a non-dairy meat jelly made using the head of a calf of pig), rabbit country pâté, foie gras mousse and pork belly rillettes (similar to pâté but with chunks of meat instead of a smooth mixture).
"This is a chance to use the lesser appreciated parts of an animal — head, trotters, cow knuckles, ears, liver. It means we need people to come in with an open mind and get in there," White said.
White and his staff cut through the richness of their boards with a list of accoutrements including red onion marmalade, green apple mustardo, lemon aioli, honeycomb, candied pecans and pickles (pro-tip: don't miss the pickled cauliflower).
The restaurant group led by Andrew Goodman and Stefan Bowers is sharing a whole 300-pound pig from South Texas Heritage Pork of Floresville. Owned by Mark and Kelley Escobedo, the ranch focuses on heritage breeds. This terrific pig, a 2-year-old Tamworth and English Large Black cross, was dropped off in the same firehouse where Mark's grandfather worked as a firefighter. The staff broke down the pig Monday afternoon and went on to divvy up sections for charcuterie boards at Battalion, Feast and Rebelle.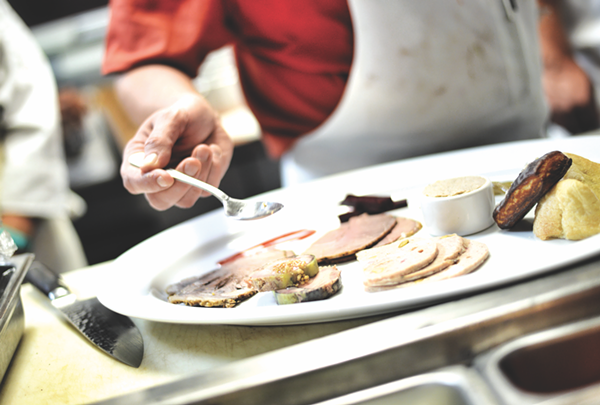 Biga on the Banks, Courtesy of R Public Relations
"I don't want these guys to think of charcuterie as cool — it's what you're supposed to do. You're supposed to honor the whole pig," Bowers said.
Jared Smith, executive chef at Feast shared his strategy. "We'll probably go with one to three-day cures and full-cooked charcuterie. We can't get into more challenging methods because of time and space," Smith said, while noting items that might make the board including sausages and pâté along with pickled cabbage, pickled quail eggs, and mustard.
Boards will vary in price — a new tier was added this year so expect to pay either $15 or $25 — but look for variation by cuisine. Il Forno's Jason Garcia will prepare nduja (a spicy spreadable salumi), porchetta di testa (essentially a pig head that's deboned, marinated, rolled, tied, braised and sous vide), lardo (cured backfat), and pancetta (Italian bacon) along with pickles and spreads found at the South Flores shop. Chris Cullum will take his burger concept and deconstruct it to make a "transformer board" with grilled milk bread, Attaboy bacon, charred tomato aioli, brown Alamo mustard, sweet onion marmalade, Attaboy pickles and possibly a burger sausage. Toro Kitchen + Bar will lean Spanish, while Kimura heads east, and El Machito looks to chorizos and other Mexican delights.
Perhaps the most surprising addition comes by way of Chocollazo. Owner Mary Collazo will tackle a dessert charc board that includes Texas Black Gold garlic ice cream with a drizzle of vanilla, honey and dark chocolate flecks; smoked caramel; a chocolate soil made of almonds, chocolate and salt; brûléed figs with chocolate balsamic pearls; and a chocolate salami made with dense chocolate ganache filled with pistachios and dried fruit, rolled in powdered sugar and tied off to look like a sausage; and finally pizzelles, snowflake-like Italian cookies that she hopes eaters will use as their "bread."
You won't need a bachelor's to enjoy these boards, but you will need a serious dose of curiosity for how the sausage, pâté, rillettes, and pickles are made.
"As a culture, we have reached a point where we're so far from where things come from and how they're made and who made them and what it took to make them," Sohocki said. "We don't remember and therefore have no ways to appreciate the pains farmers took, bakers took, cheesemakers, butchers …"
It's time we remember.
Charc Week runs July 24 through 30 at participating restaurants.