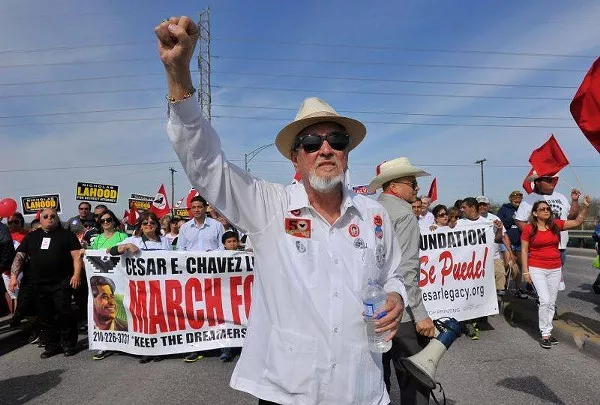 César E. Chávez Legacy and Educational Foundation
San Antonio worker's rights activist Jaime Martinez died Sunday after a long battle with lung cancer. He was 70.
Perhaps best known for creating the César E. Chávez Legacy and Educational Foundation and leading the annual César E. Chávez March for Justice, Martinez played an instrumental role in keeping Chávez' fight for farm worker's rights alive in San Antonio.
Martinez, raised in the city's west side by his migrant worker grandparents, became involved in activism after joining the International Union of Electrical Workers in 1966. He soon was participating in and organizing marches and protests in solidarity with local migrant farm workers (like the Delano grape boycott) inspired by Chávez' movement in California. The two activists became friends before Chávez' death in 1993.
More recently, Martinez worked to mentor younger undocumented immigrants fighting to stay in the United States and advocated for the protections found in so-called "sanctuary cities."
"Sanctuary cities should be part of the plan for hard working immigrants who are here in this country," Martinez said in
an 2016 interview with WOAI
. "We're talking about hard working immigrants; we are not talking about criminals."
San Antonio already bears a few memorials to the civil rights leader, including his portrait
in a Mi Tierra mural
and a
street named after him on the west side.
Martinez' family
has invited the public to join
in both a Wednesday public viewing of Martinez' body and a Thursday memorial procession on the west side.
Many local leaders and politicians became close with Martinez through his activism, including U.S. Congressman Lloyd Doggett, who knew the activist for 30 years. On Sunday, Doggett
wrote on Twitter
that Martinez' "spirit inspires us to continue the struggle for justice."
In a Sunday statement, Mayor Ron Nirenberg said Martinez' work to advance civil rights and workers' rights "changed San Antonio and the nation for the better."
Martinez, who battled cancer for years,
told the San Antonio Express-News
in 2013 that the legacy of honoring Chávez and the labor movement is not attached to any one person.
"The march will continue long after we're gone," he said.