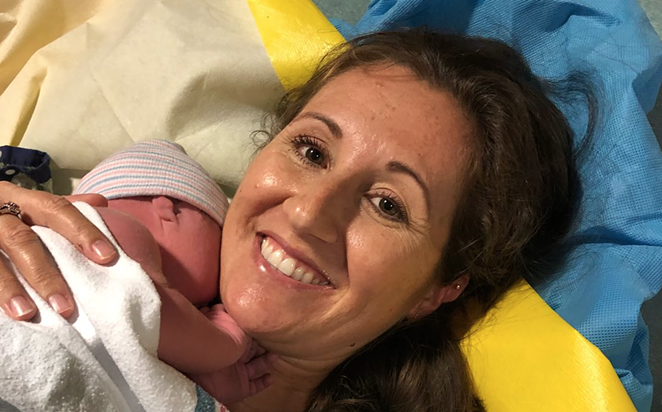 A San Antonio couple and their newborn daughter are now internet famous after the woman gave birth in a Chick-fil-A restroom.
Falon Griffin started having contractions late Tuesday night when she and husband Robert called a friend to meet them at a Chick-fil-A off of Highway 281 and Evans to pick up their two older daughters. When they got to the restaurant, which was already closed, Falon had to use the restroom. After banging on the door, employees let her in to use the restroom.
Instead, she gave birth.
According to a Facebook post that has since gone viral, Robert said goodbye to his daughters in the parking lot and went inside to check on his wife. A manager told him that Falon was screaming, prompting him to go into the bathroom. There he found his wife straddling the toilet and his daughter's head crowning.
As employees called 911, Robert snapped into action and delivered the baby. This was no easy feat, as the umbilical cord was wrapped around the baby's neck twice. He was able to unwrap the cord and the baby was out two pushes later, using his Trump 2020 shirt as a towel (we're sure Trump will offer to be the godfather). Robert even cut the umbilical cord and kept wife and baby stable until paramedics arrived.
But the wackiness doesn't stop there.
Gracelyn Mae Violet Griffin will be tied to Chick-fil-A even after birth. The chain has offered baby Gracelyn free food for life and even a job when she turns 16.
Stay on top of San Antonio news and views. Sign up for our Weekly Headlines Newsletter.