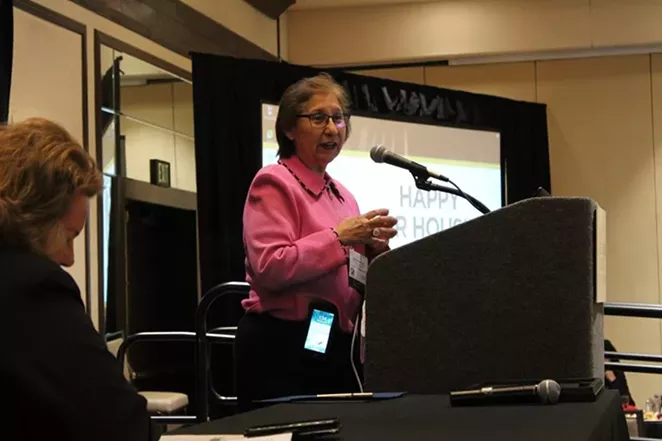 Via Fair Housing Center of Indiana's Facebook page
HUD Assistant Secretary Anna María Farías said Facebook's ad filtering is "the same as slamming the door in someone's face."
Last week, a San Antonio fair housing advocate's anti-discrimination suit against Facebook got a booster shot from two U.S. government agencies.
The suit, filed in March by the Fair Housing Council of Greater San Antonio and three similar groups, argues the social media giant knowingly let landlords and property sellers run ads that filter out who sees them based on factors such as race, disability, religion and whether someone has kids.
A filing Friday by the Justice Department in U.S. District Court for the Southern District of New York urged the court to reject Facebook's motion to dismiss the case, saying the corporation is a content provider and therefore fair game for a housing discrimination suit.
Separately, the Department of Housing and Urban Development filed an administrative complaint against Facebook, saying its filtering options violate the Fair Housing Act by letting advertisers exclude protected classes of people.
"We appreciate the strong statements from DOJ and HUD," said David Berman, an attorney representing the Fair Housing Council. "We're confident that once this case is heard, the court will find that Facebook did violate the law."
Facebook had no immediate response at press time. However, in a
blog post
yesterday, the company said it will kill off 5,000 ad-targeting options to "help prevent misuse," such as excluding viewers based on ethnicity or religion.
It's unclear how many landlords or property sellers did just that, Berman said. But prior to filing their suit, all four plaintiffs were able to generate fake discriminatory ads that received Facebook approval.
"The capacity is there," Berman said. "It would just take one bad actor with a lot of properties to affect hundreds of thousands of apartments."
HUD officials began their Facebook probe after reading a 2016
Propublica report
on the problematic nature of the company's ad platform and a
subsequent online rebuttal
by Christian Martinez, then its head of U.S. multicultural sales.
"The Fair Housing Act prohibits housing discrimination including those who might limit or deny housing options with a click of a mouse," said HUD Assistant Secretary Anna María Farías in a written statement. "When Facebook uses the vast amount of personal data it collects to help advertisers to discriminate, it's the same as slamming the door in someone's face."
Stay on top of San Antonio news and views. Sign up for our Weekly Headlines Newsletter.