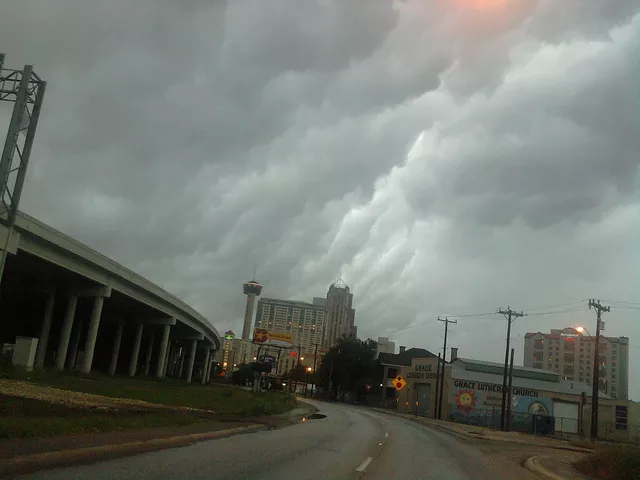 Flickr Creative Commons/John Tedesco
Storm clouds gather over Downtown.
San Antonio typically gets a foot of rain by early June, but rainfall totals are double that this year, according to the
National Weather Service
.
A wet spring combined with torrential rains over the past few days have contributed to the
lofty total
, soaking the soil and creating ideal conditions for flash floods.
National Weather Service
Map showing how much rain San Antonio has received relative to the average amount.
Storms have
closed streets
and caused
power outages
around San Antonio. They've had deadlier consequences elsewhere.
At Fort Hood,
five soldiers died
after their vehicle became stuck in a creek and turned over. Four more soldiers who were also in the vehicle are still missing, and three were rescued.
Six other people across Texas
have died in recent floods. Hundreds more, particularly southeast of San Antonio, have evacuated their homes.
But there's more precipitation yet to come. The NWS predicts that San Antonio could receive up to 3 inches of rain between now and Sunday. A
flash flood watch
is in effect for the city and surrounding area until Friday evening, and the coming storms could also bring hail.
Still, San Antonio has a ways to go for this to be the city's rainiest year ever. The
record for Alamo City rainfall
is 52.28 inches, set in 1973.