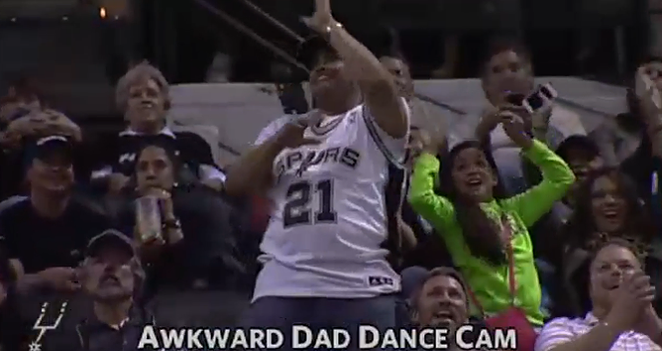 San Antonio Spurs Twitter
We're sure there is no shortage of awkward Spurs dads in the Alamo City — and probably across the country, too.
Over the past few days, the San Antonio Spurs have been using social media to ask fans to send in awkward photos of Spurs dads.
The Spurs picked a few winners who are getting team autographed basketballs in celebration of Father's Day.
The contest is closed, but we wanted to share some of our favorite awkward Spurs dads.
The Spurs' contest drew lots of entries. We just picked a few that we liked, so if you have a half hour or so to waste after checking these Spurs dads out, visit #Spursdads on Instagram or Twitter and enjoy.
We don't know why this Spurs fan is losing it, but his daughter loves it.
This dad is clearly a seasoned Spurs fan who probably has wild mood swings during the finals.
And of course, not all photos were of fathers bleeding silver and black or getting riled up.
But whenever you ask the Internet to use hashtags, even when it comes to the Spurs, you never know what will turn up.
No commemoration of Spurs dads would be possible without one who his absolutely pissed off at the refs.