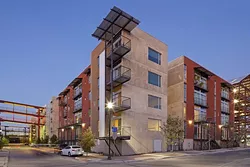 A blog that covers the dynamic self-storage beat (yes, really) has ranked San Antonio as one of America's top cities for new apartment developments. According to
Sparefoot.com
, the Alamo City is 
number 13
 in the top 15 apartment boom towns. Anyone who has driven around the city or heard Mayor Juli
á
n Castro drum on about the "Decade of Downtown" shouldn't be surprised. The surge in rental development is an economic boon for the city and is transforming the metropolitan landscape. But to those that tend to be bleak and suck all the joy out of life, that same surge may be a sign that many San Antonio residents might have to abandon all hope of achieving home ownership, the pillar of the American dream. The 
Wall Street Journal
 reports that nearly a third of new residential construction that is earmarked for rental apartments, the 
highest percentage in 40 years
.
That shift away from single-family homes to apartments is a post-recession change in the economic fabric. While San Antonio and the state of Texas were immune to the brunt of the recession, they are still exposed to the downfalls of the tepid economic recovery. Banks continue to maintain a tight grip on mortgage credit despite the improving economy. American wages remain stagnant, and student loan debt forces many young professionals to rent instead of purchasing single-family homes. These economic circumstances are ushering in a cultural shift for the generation currently entering the workforce. Many will throw away their money on rent instead of accumulating wealth through home ownership. In 2013,
 4,000 units were added to the city's rental inventory
, according to Marcus & Millichap Real Estate Investment Services. The 2.4 percent apartment inventory increase was spurred by moderate job creation and population growth. But before you cheer for job creation, remember that for every high-paying Rackspace job, there are ten low-wage call center positions that are typically added to San Antonio's job rolls. The demand for apartments is driving up monthly rents. The average rent for a one-bedroom apartment unit in San Antonio 
increased 11 percent
 since the 2008 economic collapse. (Rents for two-bedroom apartments increased by 16 percent.) Meanwhile, wages aren't keeping up with the pace. The average income for a non-family household, the type that typically chooses to rent is just shy of $31,000, 
according to the U.S. Census Bureau
. Rent increasingly strains the budgets of San Antonio apartment residents. The ranking by Sparefoot.com states that the 39.8 percent of area apartment dwellers are spending 35 or more percent of their monthly income on rent. Financial planners typically recommended spending 25 percent of one's monthly income on rent or mortgage payments, but that advice lends itself to pre-housing crisis ideals and not today's soul-crushing reality. And as San Antonio's focus is pinpointed towards revitalization of the city center, it's difficult to ignore that renting a unit in one of the many prestige downtown apartment developments is nothing but a pipe dream for many San Antonio residents. Many young professionals, the very people the downtown revitalization aims to attract are priced out of units that were seemingly built for them. Those Can Plant apartments at Pearl sure are pretty, but what they aren't is cheap. So if you're preparing to graduate college and stake it out on your own, or if you are one of the two-thirds of San Antonio residents without a college degree, you can try to have hope for your future financial stability. Just know that the invisible hand of the market is working against you.