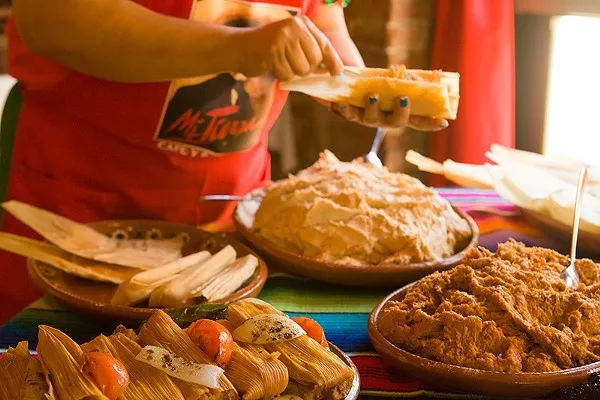 Corn husks will line the streets of San Antonio this weekend as masa-fanatics take on three new tamal-centric events.
Brooks kicks things off on the Southside with
Feliz Tamalidad
(
noon-6pm, Sat, Hangar 9, 8081 Inner Circle Drive
), which includes live music by Los Texamaniacs, Bombasta and James Keith and the Moondogs and tamales from two different locations of Delicious Tamales and Delia's in McAllen; other food vendors include Cheesy Jane's, Flamingo Ray's, B&B Smokehouse, Slow Cooker Catering and JD Chili Parlor. The event will also feature retail vendors and children's activities including photos with Santa by Calumet, activities by the DoSeum and a Microsoft VR Xbox experience.
You'll want to save room for Sunday's dueling tamaladas:
La Gran Tamalada
(
11am-4pm, Historic Market Square, 514 W. Commerce St.
) will relocate from its usual home at The Guadalupe Cultural Arts Center to Market Square, where La Familia Cortez will host hands-on workshops on tamal-making every 30 minutes, children's activities and photos with Pancho Claus provided by the San Antonio Public Library. Vendors include Mi Tierra, Viva Villa, La Margarita, Los Barrios, Garcia Foods, Corina's Tamales, and Summer Moon Coffee. Music will be featured across three stages with everything and anything including mariachi and Tejano.
Over on the city's Eastside, EgCollaborations will host
Sunday Masa: A Holiday Tamales Extravaganza
(
11am-6pm, Alamo Beer Co., 202 Lamar St.
) with a "Pan Dulce Pavilion," featuring Panifico Bakery, CRAVE Cookie Rave/Popcorn, and Honeysuckle Teatime. A "Made in SA Holiday Market" will include local craft vendors such as BarbacoApparel, Grey Moon Vintage, and Garcia Art Glass, and wreaths among others. Finally, a dozen (duh) tamal vendors including Celorio's Tortillas, Johnny Joe's, Toña's Tamales, Tommy's Barbacoa & Big Red, Carnitas Lonja, Devine Cafe, Olgitas Molino and Chilito Express will round out the day. Tamales will be priced between $1 and $3 for individual and guests can buy up to three dozen from each vendor. Vendors will also bring buñuelos, menudos and more.
Bring your stretchy pants.