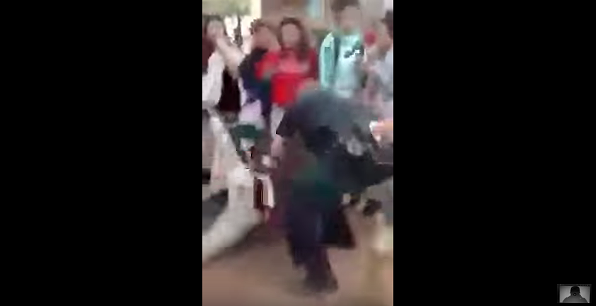 YouTube screenshot/Ghost-0
A screenshot of former SAISD Officer Joshua Kehm.
San Antonio ISD has fired Office Joshua Kehm, who was showed on
video
slamming a student at Rhodes Middle School into the ground, the district
announced today
.
"As educators, it is our responsibility to provide a safe environment for all of our students," said SAISD Superintendent Pedro Martinez. "We understand that situations can sometimes escalate to the point of requiring a physical response; however, in this situation we believe that the extent of the response was absolutely unwarranted. ... We want to be clear that we will not tolerate this behavior."
Martinez also said that the report filed about the incident was "inconsistent" with what appeared on video. The event occurred around dismissal on March 29. The cellphone-shot video was posted on YouTube now has over 2.2 million views.
"In general, there wasn't a lot of detail provided [on the report], and it was more ... describing it as an accident, as the student falling" said SAISD spokeswoman Leslie Price. "It wasn't consistent with what we saw on the video."
Kehm was initially placed on administrative leave while the district investigated the event. The Texas Rangers will continue to investigate the incident, relieving SAISD's own police department.