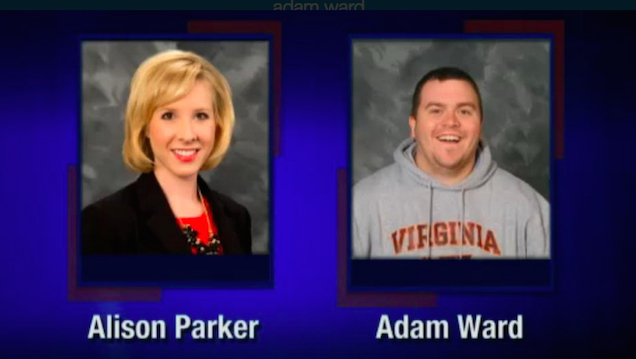 WDBJ-TV
Television reporter Alison Parker and photojournalist Adam Ward were shot and killed during a live television news segment in Virginia today.
Update: Wednesday, August 26, 2015, 4:49 p.m.
ABC News reports that Flanigan has died from a self-inflicted gunshot wound at roughly 12:30 p.m. CST. The outlet has also published his 23-page manifesto detailing his grievances and motivations.

The original post continues below.
The nation is reacting to the shocking video of a deadly shooting on live morning television. A suspect identified as Vester Lee Flanigan by authorities allegedly shot and killed reporter Alison Parker, 24, and her cameraman Adam Ward, 27, while the two were doing a live morning news segment for WDBJ-TV in Roanoke, Virginia. Vicki Gardner, who Parker was interviewed at the time was reportedly injured in the shooting and is undergoing surgery.
Flanigan, who also went by the name Bryce Williams is a former WDBJ-TV reporter. A video of the suspect's perspective just before the shooting was published on a now suspended Twitter account allegedly belonging to the Flanigan. The 20-second clip ends with a gun pointed at Parker before abruptly ending. The same Twitter account expresses personal animus toward Parker and Ward and claim of racial discrimination was filed with the EEOC against WDBJ-TV. The station's general manager confirms that an EEOC claim had been filed.
According to a statement from Virginia State Police
, officials caught up with the suspect on a Virginia interstate. After a high speed pursuit ending in a crash. The suspect shot himself, and his now being treated for "life-threatening injuries." Initial reports that the suspect cis dead are false.
The unnerving video is unavoidable on news stations and on social media. Given the shooting involved the death of two journalists, local reporters are going beyond their duty to report the news by expressing their shock, anger and sadness of today's tragedy. Here's a look at what some local reporters had to say.
My heart goes out to the families of the @WDBJ7 reporter & photog killed this morning. So very tragic.

— Shelly Miles (@ShellyMiles) August 26, 2015
Before today, I rarely thought about the dangers of doing my job. After today, I, for one, will worry about those dangers, once unthinkable.

— Frank Alosa (@FrankAlosa) August 26, 2015
There is and will be a certain uneasiness in newsrooms across the country today, a feeling that likely never existed until this morning.

— Frank Alosa (@FrankAlosa) August 26, 2015
My heart goes out to the reporter and photographer killed during a live shot this morning, and their newsroom. Such an awful and sad story.

— Jeremy Baker (@JBWeather) August 26, 2015
Every newsroom in the country is having or about to have the same meeting. Just got to mine.

— Emily Baucum (@EmilyBaucum) August 26, 2015
We'll update this post with developments to the story and additional reactions throughout the day.