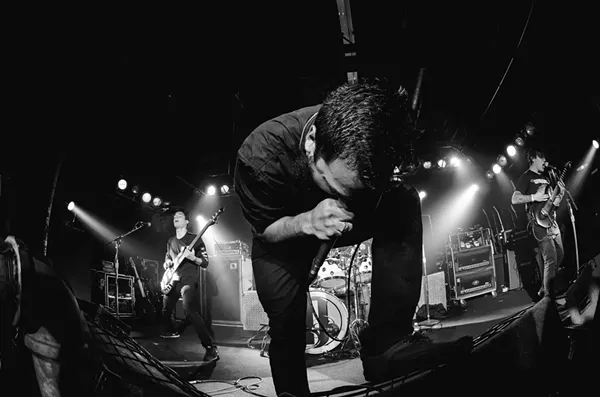 Stephanie Cosenza
Darkness Divided playing in Flint, Michigan

Following in the footsteps of metal bands who sing about Jesus (think Norma Jean or Living Sacrifice), some might simply write off Darkness Divided as breakdown-heavy Christian music. Regardless of message, you can't deny that these guys are good.

Good enough to land a spot on hardcore label Victory Records, which have hosted scores of hardcore, post-hardcore and metalcore acts over the years including Terror, Atreyu, Thursday and even Bad Brains. And for being in a genre that's only become less popular over the years, the band continued to to bring something fresh to the table.
However, after almost eight years of releasing music and touring, including a tour earlier this year with Unearth, the four-piece have announced that they're throwing in the towel to focus on other areas of their lives.
"I'm not gonna lie and say that it wasn't very hard for me personally," vocalist Gerard Mora told the Current. "Just 'cause, it was my baby or whatever, but you know, I'm happy."

Mora explained that the decision had been a long time coming. Joseph Mora, his brother and bass guitarist for the band, had told them a year-and-a-half in advance that he was eventually going to leave the band to get married, go back to school at the Butler School of Music at UT (which he had left to join Darkness Divided) and eventually become a teacher.

The vocalist himself is also getting married in July, and in the meantime has started working with Prince of Peace Catholic Church, playing every Sunday at the 12:30 Mass. Mora says that his brother and guitarist Sebastian Elizondo are building their own studio setup and are going to start working on their own music project, which Mora says probably won't be metal.
But Darkness Divided isn't completely done. The band will be releasing an EP (bringing their catalog to 2 full length albums and 2 EPs) at the beginning of the year as a "thank you" to the fans, followed by some tour dates at the end of March and early April. But first, the quartet will be play one last show this year in "The Saloon" at Alamo City Music Hall alongside a string of other local bands.
"It's been a bummer 'cause I love touring. I like traveling. I love meeting people and hanging out at shows and stuff, but I definitely feel like this is my calling," Mora said. "I need to go and give back to my roots of ministry and I'm pretty excited to get married.

"It's a change, it's a new season, it was rough [making the decision to end Darkness Divided], but now that we're here, the future looks good."
Friday, December 29, $10, 7pm, Alamo City Music Hall, The Saloon, 1305 E. Houston St., alamocitymusichall.com.