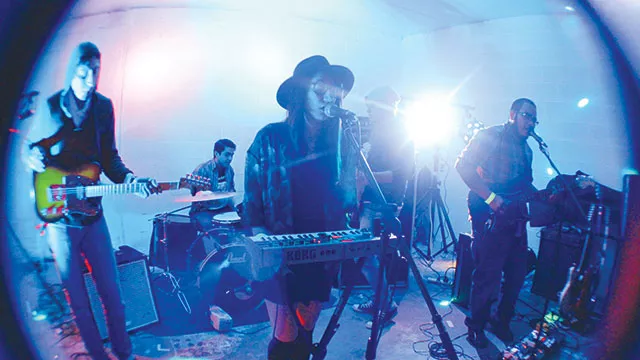 As far as best new artist winners go, Tides. feels like an unassuming choice. The band name, wisely shortened from Spirit Tides, still lacks a certain splash value. At first pass their music—a chiming, pleasant blend of indie-pop—glides by evanescently, often leaving no trace it was ever there. But in the spirit of Washed Out, Beach House and the host of other modern acts contained in the dream pop aesthetic into which Tides. comfortably slides, there's a subtle undercurrent to their music, gentle at first, that draws you in closer. And like those acts, the trick lies in making the complex sound simple.
"[Our sound] wasn't something that we talked about, it just sort of came out organically," says singer, guitarist and chief songwriter Emilio Gomez. "[Guitarist Andrew Perez] is a music scholar, and often he'll take a major chord and put it against a major 7th, or some other chord tone, to make it more interesting. Even with the keyboards, we're trying to add more complexity to the sound."
Though Tides. has only been together for about half a year, the five-piece has emerged as one of SA's most intriguing and complete new acts, qualities that helped them stand out among a talented pack as this year's Best New Artist. Formed after Gomez met up with a group of old friends from the Holmes High School Band, he says the group hit on their style not so much through a convergence of tastes as a unique blend of them.
"We all like bands like Toro y Moi, Beach House and Washed Out. But then Andrew likes psych rock, Tame Impala, the Black Angels. [Singer/keyboardist Jayne Valverde] loves old jazz singers, so we'll cover Billie Holiday. Our bass player [Jordan Garcia] is into a dancier kind of music, bands like Twin Shadow, and that makes his bass parts a little groovy. Then you bring it together and it becomes our own thing."
The band's dual-singer approach, with Valverde's breathy purr set against Gomez's reserved croon, stands as another quality that sets Tides. apart.
"I had always wanted to hear a girl sing my songs," says Gomez. "And I thought the way we play guitar, in this very jazzy style, that a feminine voice would match with that well. As soon as Jayne came in, it really started to make sense, to hear her timbre mesh with the songs."
Though the band has posted a couple of tracks on their SoundCloud, Gomez promises an official release—likely an EP produced by Bright Like the Sun's Chris Etheredge—is forthcoming.
"This is pretty much everyone's first band, so definitely, we need time to focus on figuring out exactly the way forward," says Gomez. "Although I sort of lead the band, I want to make sure it's [by] consensus, that everyone is involved. Eventually, we want to make a full-length of just sounds we really love, one that really hits on the sound we're after. For now though, it's baby steps going forward."