SPONSORED
During National Hispanic Heritage Month (September 15 to October 15) the San Antonio Public Library recognizes the achievements and contributions of Hispanic and Latino Americans to the American story. We celebrate Hispanic heritage and culture through a variety of special events and programs at various branch locations.
This year, the Library was awarded a competitive Latino Americans: 500 Years of History grant from the National Endowment for the Humanities (NEH) and the American Library Association. As part of the grant, the Library will provide public programming –film screenings, discussion groups, oral history initiatives, local history exhibitions, multi-media projects or performances – about Latino history and culture. The library will also screen episodes from the six-part documentary film "Latino Americans," created for PBS. The award-winning series chronicles the history of Latinos in the United States from the 16th century to present day.
Other programs happening include:
Curandero Secrets
Yerbero (Herbalist) Don Jacinto Madrigal will visit library branches to share his knowledge of curing ailments with herbs and plants he cultivates in the backyard of his San Antonio home.
Saturday, September 12, 11am, Johnston Branch Library
Saturday, September 26, 11 a.m., Pan American Branch Library
Saturday, October 3, 11 a.m., Bazan Branch Library
Saturday, October 8, 6 p.m., Cortez Branch Library
A Tribute to San Antonio in Poetry and Photographs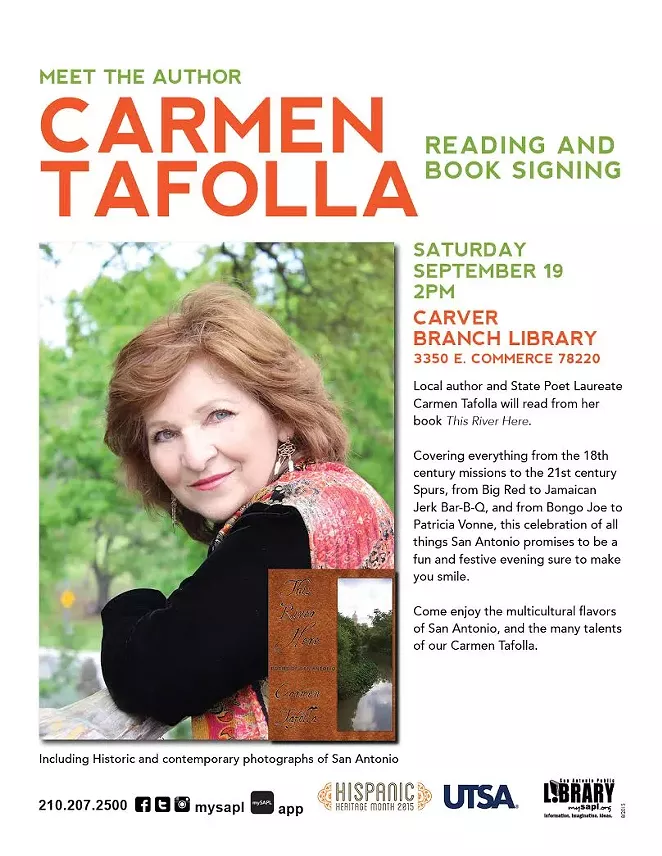 State Poet Laureate Carmen Tafolla presents a poetic tribute to San Antonio that combines readings of her poems with historic and contemporary photographs of some of San Antonio's personal, cultural, and physical treasures.
Saturday, September 19, 2 p.m., Carver Branch Library
On the Plaza That Never Slept in 1880's San Antonio: A Story of Chili Queens
Dr. Marian L. Martinello will discuss her research on 19th century San Antonio history and her books "The Search for a Chili Queen" and "Chili Queen: Mi Historia."
For a full calendar of events, visit
mysapl.org
.