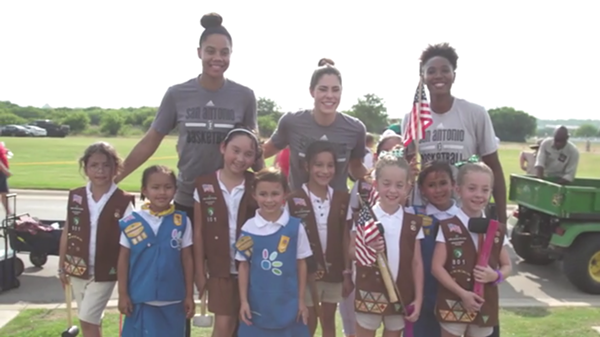 The San Antonio Stars are used to being honored and cheered every time they defend home court at the AT&T Center. During a visit to the Fort Sam National Cemetery, the team had the opportunity to return the favor and honor the lives of fallen soldiers who served our country, and protected our freedom.
"There are lot of people who are buried here that have represented our country in foreign wars," said Air Force Master Sergeant and Stars Season Ticket Member Josh Haney, "This is a good opportunity to come out and remember people that have served and given us our freedom."
Stars players and coaches joined families as they placed flags in front of the tombstones of fallen soldiers. It was simple gesture, but one that conveyed a deep appreciation and gratitude for those who fight to keep us safe.
"It's a great thing that we can do to give back to our veterans and just a great location since we're in 'Military City, U.S.A.'," said rookie forward Nia Coffey, "So it's just a great way to reflect and give back and help our veterans."
As she looked across the rows of tombstones adorned with flags, Head Coach Vickie Johnson could not help but stand back and reflect on the day she and her team had been a part of. "I'm just grateful that I had the opportunity to do this," said Johnson, "I'm 45, and this is the first time ever that I've experienced something like this and it's amazing."
The Stars will host their annual Hoops for Troops game as they take on the Phoenix Mercury on Friday, July 7, at 7 p.m. at the AT&T Center. Friday is also Dollar Drink Night presented by Bud Light and the San Antonio Current. Domestic beer and soda is $1 all night, along with discounted appetizers at a pregame happy hour at Rock & Brews. Browse tickets and t-shirt packages here.