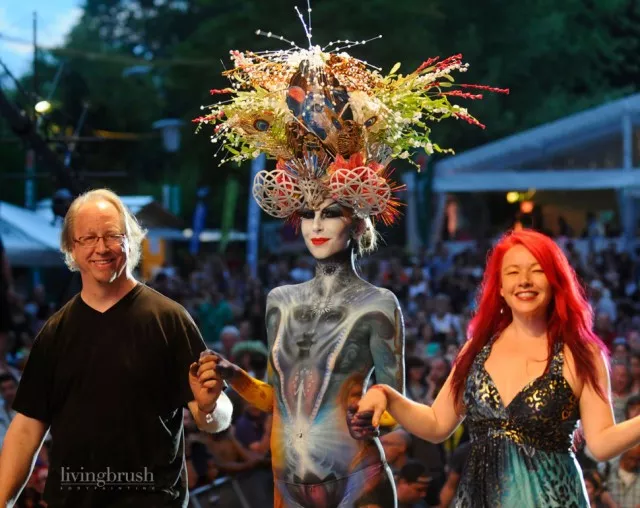 If there was only one word to describe fine art body painting it would have to be - Fantastic! Art "conceived and created by an unrestrained imagination." Somehow that word still does not seem to do it justice. Unlike the art pieces beautifying galleries and museums or adorning our homes, bodypainting lasts only for a few hours before it is completely washed away. The glamour, the colors, the exquisite headpieces and props, the emotions it brings to surface (as a good art piece does), unique to each individual, leaves onlookers in awe and grateful to be a part of an experience not always shared by many. The strenuous hours, actually weeks, it takes to painstakingly create this rare and meticulous piece is forever gone in the evening's ablution.
This year San Antonio will be home to the biggest, most thrilling bodypainting competition this city has seen as of yet. The Texas Body Painting Competition, brought to you by Beyond The Canvas, will be hosting global fine art participants as well as local favorites. BTC will be challenging artists to dig deep and express their most unique ideas and pivotal experiences and bring them to life on a living, breathing, performing canvas. What better location to introduce these theatrical presentations other than San Antonio's very own historic Guadalupe Cultural Arts Theater.
Bodypainting is not new to the world or even San Antonio. Since 2010, though, Beyond the Canvas has been bringing this art form from the underground to more mainstream audiences. Tomas Vasquez, founder of BTC, was a local art, music, and event promoter and had attended a graffiti body paint event in town. He dared to bring it to a much larger scale and brought forth a challenge to local artists in and around our city to expand their mediums from canvas painting and/or tattooing to try out body painting. That first event was more of an exhibition having 10 artists, 10 living canvases, and hairstylists showcasing some of their most brilliant works. It was such a success that more and more artists came forward and were ready to test their own limits.
The Texas Body Painting Competition has since tripled in size, bringing together collaborations of not only artists and canvases, but also photographers/videographers and volunteers united to bring this art in this city to a more respected and admired form thus far. BTC has provided their members (and other aspiring artists around town) with opportunities to enhance their skills with classes by master body painters such as Mark Reid and Nick Wolfe and more. Associates have also held workshops for canvases to prepare them for the arduous undertaking of standing for up to 8-12 hours and how to concert with the artist on the best way to present the art.
"Working together for the benefit of the art community, creating opportunities within our city; providing mentors, fostering teamwork, cultivating a professional networking group and enabling artistic expression." - Beyond The Canvas Mission Statement
Representing San Anto across the nation from Louisiana to New York, Beyond the Canvas has developed kinships and sponsors like SKIN WARS participants, Brittney Pelloquin, Rick Enks Uribe, and Angela Rene Roberts, as well as world-renowned body painter Craig Tracy. "Everything about Beyond The Canvas is BEAUTIFUL... together we will make the world a more colorful place..." - Craig Tracy
Beyond the Canvas has partnered with brands such as Jaguar, The San Antonio Zoo, American Airlines, and Marriott Hotels. They have been a featured Art Group at the AT&T Center for the RiverCity RockFest since 2013 and are currently working with the Non-Profit Organization, Believe It Foundation.
Without a doubt, it is taken very seriously and with the utmost respect for all involved. This will be the 11th Texas Body Painting Competition since its humble beginning in 2010 and will be held November 10, 2018 from 7 pm - 12 am at the Guadalupe Cultural Arts Center located at 1301 Guadalupe St SAT 78207. This year will feature 30 artists and 30 canvases from all over the globe including in and around San Antonio competing for over $2000 in cash prizes and awards. Apart from the exciting art to be displayed, the evening promises to not have a dull moment. Bar will be provided by Southtown 101. Music is to be supplied by DJ C Sephi Hakubi. The Flowbotics Hoop Troupe will make an appearance as well as an exhibition by Capoeira Luanda. Live artists and art vendors will be available for your viewing pleasure and memorabilia.
VIP Premium and Exclusive passes are still available and include restricted access along with early entry starting at 5 pm and admittance to the Behind The Scenes live painting. They will be given ingress to a Live Photo Shoot and a Meet & Greet with celebrity judges. The special judges will include Hyon Yong Jin, Scott Fray, and Craig Tracy. Event will be hosted by Skin Wars artist Angela Rene Roberts.
Get your tickets now
. You don't want to be left out!
Written by Eloisa Salinas