Courtesy of CycloSocial Co.
San Antonians and tourists alike will soon be able to book a ride on one of the city's first party bikes (the
Local Crawler
had a quiet launch earlier this year) when
CycloSocial Co.
launches in late August.
Set for an August 20 launch at Alamo Beer Co.'s beer hall, the company owned by friends and business partners Rafa Veraza and Juan Leon, who first had the idea in November.
"I had been on one in Nashville and thought it'd be cool to bring the concept to San Antonio," Veraza said.
The pipe dream turned into reality after city council approved a new article in the City's Code of Ordinances under transportation. Under Chapter 33. Vehicles for Hire, Article III Group Cycle Services, CycloSocial Co. and Local Crawler are able to operate legally for a probationary six months.
Courtesy of CycloSocial Co.
The friends purchased the shiny, custom-built bicycle from Caztek Inc., one of three engineering and design firms in the U.S. that builds the group rides. The ride is pretty sweet, even for this non-cyclist. It features a driver's seat, 10 cycle seats, two lazy seats (for people like me) and a bench in the rear that easily fits three more riders. The 20-foot-long bike, picked up from St. Paul Minnesota this July, is equipped with cupholders, a keg-holder, tap system, bluetooth sound system and an e-assist electric motor in case the peddlers grow weary.
For now the service will be BYOB, but Veraza and Leon are hoping to work out sponsorship deals with local breweries. Tours will be 2 hours long, with stops at at least up to three bars. Routes are still being tweaked but expect tours through Midtown, Southtown, Downtown and Dignowity Hill (which is an uphill climb, so happy cycling). Tours will likely start at $35 per person, but attendees who make it out to the launch will receive discounts on their first ride.
The
official launch
will take place Saturday, August 20 at Alamo Beer, 202 Lamar St. at 8 p.m.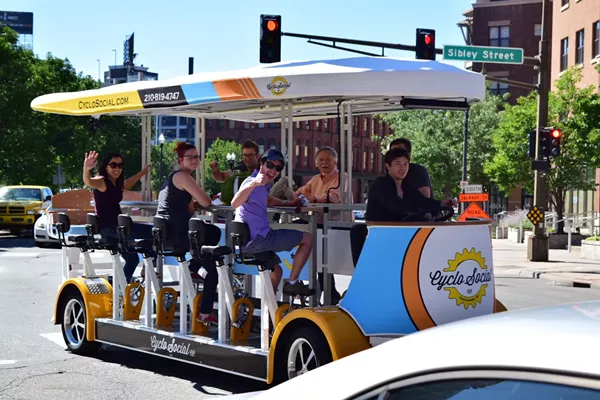 Courtesy of CycloSocial Co.