A fire early this morning on the San Antonio Zoo grounds killed a Komodo dragon (a larger than average lizard species), a lizard and a snake, according to
KSAT
.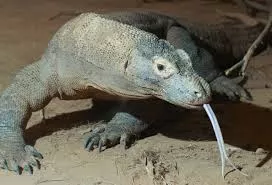 RIP San Antonio Zoo Komodo Dragon. Photo via Creative Commons Images.
While there was no huge blaze, heavy smoke engulfed the reptile enclosure and led to the death of the 15-year-old female Komodo dragon. Zoo keepers were able to save her counterpart, a 25-year-old male Komodo, from the zoo fire.
Dozens of other reptiles– including a 22-foot long, 300-lb. python – were evacuated from the premises. The fire, which began in the reptile enclosure, is said to have possibly been caused by an electrical wiring problem in the Komodo dragon area heating unit– while the zoo remains open, this area is expected to be closed for six to eight months.
"It's depressing," San Antonio Zoo Director Steve McCusker told the San Antonio Express-News. "Everybody's got sort of a lump in their stomach."
According to the Smithsonian National Zoo, Komodo Dragons are the largest living lizards (the longest one measures more than 10 feet and weighs 336 pounds). They're also rare– because of their limited range, they're listed as an endangered species.
No other injuries were reported.