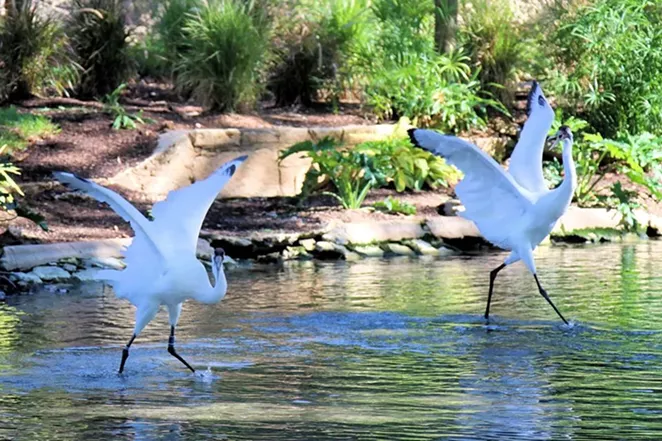 Courtesy of the San Antonio Zoological Society
Think Robert Downey Jr. had the greatest comeback of all time? Think again.
That honor actually belongs to an entire species — the whooping crane, which was rescued from the brink of extinction by enterprising scientists and conservationists, whose aggressive breeding efforts brought the cranes from a shocking number of 16 birds in the wild in 1956 to more than 800
today
, with approximately 500 migratory cranes
wintering
in Texas'
Aransas National Wildlife Refuge
alone.
On Monday, the San Antonio Zoo opened a new habitat to continue its longstanding effort to help preserve the crane species, which began with the rehabilitation of a crane named Rosie, who first produced offspring at the zoo in 1967.
The new habitat is made up of shallow, grassy wetlands fed by pure well water, designed as a haven for the cranes that will encourage breeding.
"We hope this habitat shows guests how remarkable this animal is and gives them a whole new appreciation for the conservation work the zoo has been able to accomplish," zoo president and CEO Tim Morrow said in a statement.
Courtesy of the San Antonio Zoological Society
A rendering of the planned Jaguar Cat Walk
Looking forward, the zoo has launched a Giving Tuesday fundraiser to fund a new
Jaguar Cat Walk
, an overheard walk that will allow the resident jaguars to hang out in a "canopy-type setting" and give them access to explore the river's edge in the neighboring Amazonia habitat. The cost to construct the new habitat is estimated to be nearly $2 million.
Stay on top of San Antonio news and views. Sign up for our Weekly Headlines Newsletter.