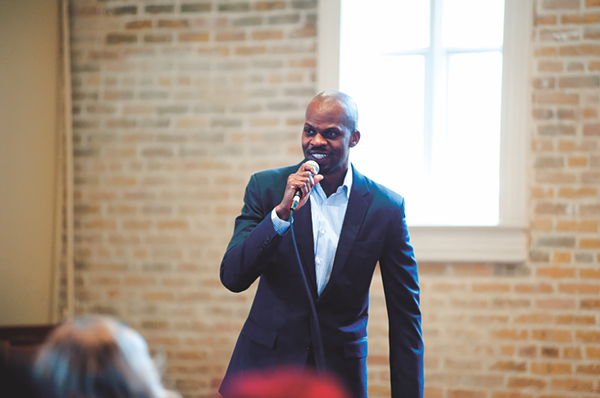 Conversations on equality and minority rights don't happen in a vacuum. Many of this year's DreamWeek events focus on issues pulled straight from local, state and national news headlines. Here's a few we'll be tuning in to.
Immigrant Rights After the 85th Legislative Session and the End of DACA
Immigrant rights advocates spent 2017 fighting political moves that would significantly impact the lives of undocumented immigrants, on both a state and national level. Last summer, the Texas Legislature passed Senate Bill 4, known as an anti-sanctuary, "show me your papers" law, and later in the year, President Donald Trump announced he'd be ending DACA, the program that allowed undocumented people who had arrived in the U.S. as children to legally live and work here. This presentation organized by the Mexican American Legal Defense Fund will discuss the impact those moves will have on the immigrant community, and inform community members how to get involved with legislation.
Sat. Jan. 6, 2018 from 10 a.m. - noon. El Progreso Hall, 1306 Guadalupe St.
Planned Parenthood's Second Annual Action Forum
For the second year in a row, Planned Parenthood Texas Votes will be hosting a forum to talk about their victories and losses in 2017, and what's on their radar for the new year. Staff and activists are calling on the community to get involved to help them strategize ways to improve reproductive health access and women's rights in the next election cycle.
Wed. Jan. 10, 2018 from 6 - 8:30 p.m. The Movement Gallery/ Galeria de Movimiento, 1412 E Commerce St.
Digital Inclusion
This panel brimming with local leaders, internet service providers and organizations will go over the importance of internet access in San Antonio, and what it means to be a "Digitally Inclusive Community. " The panel, hosted by the brand-new Upgrade SA, will discuss achieving city-wide digital inclusion for all residents, and why universal internet connectivity is an important resource to improve education and provide more career opportunities for all.
Fri. Jan. 19, from 4-6 p.m. Las Palmas Branch Library, 515 Castroville Rd.