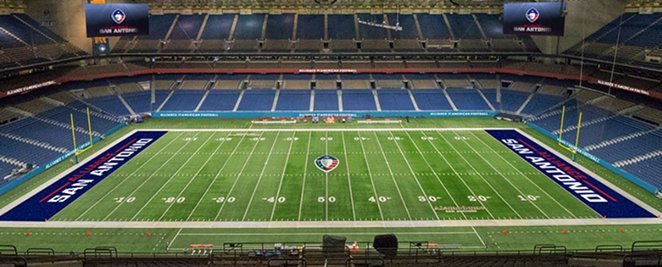 The name of San Antonio's new pro football team may not roll off the tongue or be easy to chant during the height of action — such is the bane of three-syllable words.
But that may not be its biggest problem.
In a nod to our heritage as Military City, USA, the startup Alliance of American Football today announced it's dubbed the team the San Antonio Commanders.
"For over 300 years, San Antonio has had a constant military presence with one of the nation's largest active and retired military populations in the United States," the AAF writes in its announcement. "The San Antonio Commanders honor the heroic leaders in the United States Air Force and United States Army who have dedicated their lives to service and sacrifice for this great country."
The AAF was also nice enough to explain how it arrived at the team logo. Turns out, the sword represents the military, as does the star — which cleverly does double duty and also represents the Lone Star State. And then there's the Alamo because... um... San Antonio!
Not that the sacrifices of our men and women uniform aren't worthy of our sincere respect, but did the AAF really put much thought into its whole name-and-logo package?
In some ways, the Military City moniker seems tied to San Antonio's past. Economically, we're not as dependent on Uncle Sam as we once were, and the large presence of military retirees here no longer defines this youthful and growing city the way it once did.
Not to mention, the logo and the name both miss out on the San Antonio's history of multiculturalism and status as a gateway between the U.S. and our southern neighbor.
Oh, well. At least we fared better than the AAF's Orlando Apollos. Tell me
that
doesn't sound like the name of a softball team comprised of porn actors!
And if the Commanders name doesn't work for you, remind yourself that this may be a transitory thing. S.A.'s played host to at least a dozen failed football leagues over the years — and
sports-industry experts warn
this may just be the next in line.

Stay on top of San Antonio news and views. Sign up for our Weekly Headlines Newsletter.