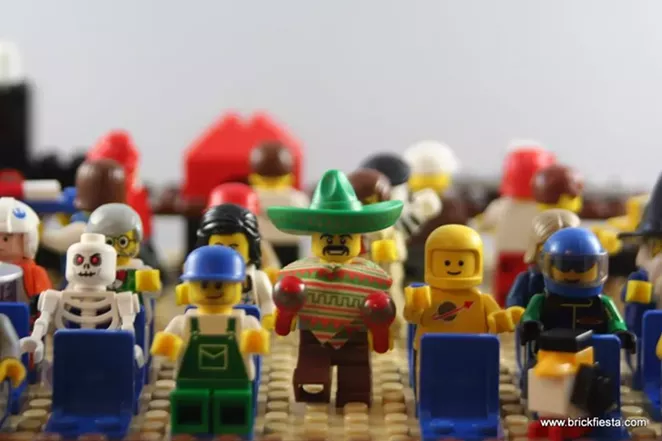 From humble beginnings in the early 20th-century workshop of Danish woodworker Ole Kirk Christiansen, LEGO has established itself as one of the most celebrated toy manufacturers in the world. A fusion of the Dutch words "leg" and "godt" (which together translate to "play well" in English and "I put together" in Latin), LEGO released its first construction toy (Kirk's Sandgame) in 1935, debuted "Automatic Binding Bricks" in 1949 and fine-tuned the building blocks of an empire — the iconic LEGO brick — in 1958.
Boasting big-time staying power and a seemingly indefatigable ability to inspire the imaginations of the young and young at heart, the LEGO brand has become embedded in the global psyche via LEGOLAND theme parks and hotels, a Warner Bros. Pictures animated movie complete with spin-offs and a forthcoming sequel, over-the-top LEGO constructions (from worldwide landmarks to life-size dinosaurs), John Baichtal's and Joe Meno's deep-diving book
The Cult of LEGO
, Brendan Powell Smith's "LEGO Bible" the Brick Testament and fan-fueled gatherings such as this weekend's Brick Fiesta. Providing "family focused fun since 2011," the nonprofit fest employs LEGO as a platform to emphasize the importance of science, technology, engineering and math (STEM).
Hosted by the San Antonio chapter of the Texas LEGO Users Group, staffed entirely by volunteers and following a theme of "Bright Ideas," this year's four-day event includes LEGO Derby Vehicle Races (in which participants will have 10 minutes to build vehicles to race down a track in hopes of advancing to additional rounds); ongoing, "completely unplanned" Free Build sessions; Speed Build competitions (keep an eye on those instructions as "time penalties are assessed for missing or misplaced parts); Swap Meets and Minifigure Exchanges; Stop-Motion Presentations led by Austin-based Amari Pavati; and a Keynote Speaker Assembly featuring California filmmaker Justin McAleece.
$10-$50, 9am-11pm Thu July 5-Fri July 6, 8am-11pm Sat July 7, 8:30am-6pm Sun July 8, El Tropicana Riverwalk Hotel, 110 Lexington Ave., (210) 223-9461, brickfiesta.com.

Get our top picks for the best events in San Antonio every Thursday morning. Sign up for our Events Newsletter.