Update 2:30 p.m. Friday, January 15:


An earlier version of this post incorrectly stated that the VIA Centro Plaza does not use solar power. This is incorrect. The plaza's solar component includes a 272 250-watt modules on its South Canopy, which have a total capacity of 68 kW.
It's been a big year for urban planning and design conversations in San Antonio: From the city's comprehensive
SA Tomorrow
planning exercises and VIA updating
Vision 2040
, to the city's
SASpeakUp 2016
annual budget workshops and forums.
A few actual happenings potentially missed amidst all the chatter, surveys and sticky note fests include the following five underreported local urban 'mysteries' and near-miracles of 2015:
San Antonio B-Cycle/Facebook
1. Disappearance of B-Cycle Station at UTSA Downtown/Pico de Gallo (Buena Vista & Leona)
Last documented by
Google in September 2014
, the only
B-Cycle station
serving San Antonio's West Side (and VIA's new Centro Plaza transit center) disappeared in 2015; a lonely rectangular cement slab is all that remains at Buena Vista and Leona near the Pico de Gallo restaurant and UTSA's downtown campus. The rumored expansion of B-Cycle west and northwest (to points including Avenida Guadalupe, Woodlawn Lake and San Pedro Springs Park) in 2015 vanished along with this key station. In a year when calls to "save" B-Cycle prompted City interventions and talk of
B-Cycle integration with VIA
, little if any attention was given to this critical pruning or amputation of San Antonio's increasingly publicly funded and managed bikeshare network.
Scott Beale / Laughing Squid (Flickr Creative Commons)
2. Opening of I-37/Tower of Americas Way Pedestrian Path/Linear Park (Commerce to Cesar Chavez)
Before the
new pedestrian ramp to the Alamodome
was even completed, San Antonio was already using the
beautifully landscaped pedestrian pathways/linear park
running parallel with the I-37 and Tower of Americas Way from near Hemisview Village on Cesar Chavez north to roughly the Denny's restaurant on Commerce Street.
Since at least spring 2015, this nameless new pedestrian cut-through and green space has been a magnet for cyclists, joggers and strollers – as well as conventioneers and tourists trying to figure out how to easily walk to the Tower of Americas and the Institute of Texan Cultures from East Side hotels. Including
new sidewalk work on W. Market Street from Alamo Street
, the new path system demonstrates how quickly San Antonio can build high quality and safe walking and cycling routes when it wants to. It's also a fantastic walking and bicycle pattern that could be extended to Hays Street Bridge and Maverick Park (helping the
East Side Promise Neighborhood
,
St. Paul Square
as well as Museum Reach revitalization efforts) simply by improving the western sidewalk line of
Cherry Street
from Montana Street to Burleson/10th Street. Perhaps that will be an urban miracle of 2016.
3. The West Side Multimodal Transit Center becomes "Centro"
Billed as
transformative development
for the near West Side of San Antonio, the West Side Multimodal Transit Center opened as Centro Plaza in late November. But commitments to improved
foot traffic
to and from the "multimodal" Centro Plaza also appear to have been dropped as sidewalk conditions remain incredibly poor on
Frio Sreet to UTSA
, as well as on Commerce and
Houston Streets
– which connect Centro Plaza with Downtown; these are clearly not Convention Center (or even
Downtown H-E-B
) quality pathways. With no VIA trolleys or "entertainment" loops stopping at Centro Plaza currently, no food offerings (food trucks or otherwise), no holiday programming and the site further "islanded" from the rest of San Antonio by poor sidewalks and bike paths, in recent weeks Centro Plaza has proven to be one of San Antonio's most handsome but vacant new public spaces of 2015.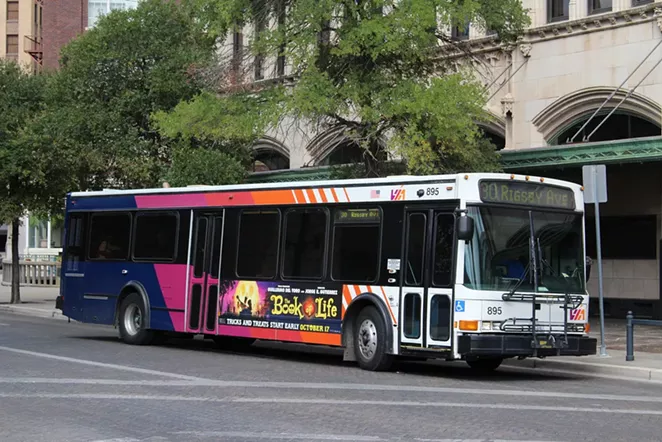 4. San Antonio's Renewable Energy Powered Electric Bus Network that Could Have Been
It accelerated into town nearly silently this summer and without any tailpipe emissions, but talk of an
$80 million, 60-80 vehicle electric bus fleet
for San Antonio (and proposed expanded neighborhood network of color coded bus lines) within 18 months evaporated as San Antonio's extended "ozone season" flared on, San Antonio's air quality woes (and related extreme heat) worsened and VIA threw a lifeline to hydraulic fracturing.
In recent months, VIA has moved to convert nearly its
entire bus fleet
to compressed natural gas (CNG) vehicles, including through a revised
once-in-a-generation request for proposals
for 500 buses that excluded electric buses from consideration; just as electric buses charged by renewable energy (picturing the solar panels at
Robert Thompson Transit Center
and envisioned for Centro Plaza) are proving to be the best value for money, in various U.S. and
foreign markets
, in terms of fueling and maintenance as well as driver and passenger experience. In 2015 a mainstream and tested option pursued by
blocks of leading cities globally
, electric public buses – Teslas for the rest of us – are "
blowing up
" any environmental case for (particularly fracking-derived) CNG-fueled buses.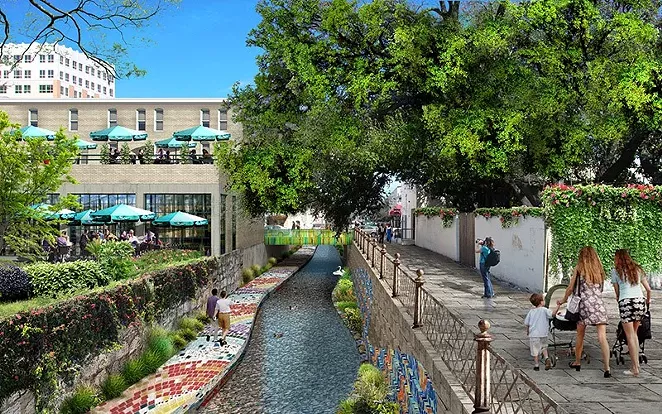 Courtesy
San Pedro Creek is still full speed ahead, though.
5. The Shrinking, Disconnected (and Further Delayed) Westside Creek Trail "System"
Planned and approved
by various key stakeholders in 2011 and endorsed by county voters repeatedly since then, the
Westside Creek Trail System
– envisioned and portrayed until recently as
connected creek trails and green spaces linking the neighborhoods
surrounding Alazán, Apache, Martínez and San Pedro Creek with each other, downtown and the Mission Reach as "Phase 1" work – has yet to be built.
After many months of delays, some progress was made on individual Westside Creek trail segments in 2015, while the overall plan for connected creek trails (along with "catalyst site" and flood mitigation work at key points) appears to have been greatly reduced. The city's Howard Peak Greenways Trail network
map
and website was changed in 2015 to reflect a new and diminished vision of
tiny
(roughly half-mile) trail segments along isolated stretches of Alazán and Martínez Creeks, as well as to move the construction completion date for these trail segments yet again.
At odds with recent commitments to
Vision Zero
and community health, the city appeared in 2015 to abandon the opportunity to serve at least six public schools and two senior centers (and countless neighborhood and downtown commuters and visitors) by constructing trail connecting Alazán and Martínez Creeks with Apache and San Pedro Creeks as long planned, dramatically increasing San Antonio's WalkScore and very low national
Fit City Index
ranking in the process. The struggle to build roughly one total mile of basic recreational path along disconnected sections of Alazán and Martínez Creeks over the past four-plus years (following and formalizing the visible and long trod '
desire lines
' along these two creeks) – as the costly and somewhat redundant
Downtown-only, two-mile San Pedro Creek segment
jumped the queue this year towards 2018 completion – suggests that downtown projects cut off from surrounding neighborhoods and existing options will continue to enjoy priority and the majority of public spending.
Ideally, 2016 will include more urban miracles than mysteries for greater Downtown neighborhoods of known need as well as tremendous promise in San Antonio. High density and historic (and historically walkable) areas of San Antonio with large populations of families with children that continue to be confronted by broken and unsafe sidewalks, paths and ditches as well as planned segregation and isolation.