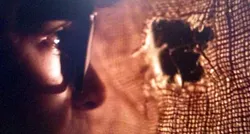 Steven (David Mazouz) doesn't like what he sees from inside a burlap bag in the second segment of the psychological thriller "Sanitarium."
Taking a page from filmmaker Roy Ward Baker's 1972 horror mystery Asylum, in which four separate patients at a mental institution are interviewed by a psychiatrist, the new psychological thriller Sanitarium follows the stories told from the unstable minds of three insane inmates under the care of Dr. Stenson (Malcolm McDowell). While the anthology might be able to take advantage of the similar concept behind the second season of the popular TV series American Horror Story, and the fact that one of the 30-minute narratives centers on the timely Mayan Calendar Apocalypse, Sanitarium simply isn't creative enough to make a lasting impression on the genre, even as an independent niche project.
Directed by San Antonio-based filmmakers Bryan Ortiz (Dr. S), Bryan Ramirez (Mission Park), and Kerry Valderrama (Garrison), each of whom heads a segment of the trilogy, Sanitarium does have the passion of its directorial team on its side. Cinematographer Philip Roy (Return to the Hiding Place) shoots the film well enough (the washed-out classroom scenes are nice), but without a quality screenplay (co-writer Scott Marcano wrote the 1996 Pauly Shore vehicle Bio-Dome), Sanitarium can't do anything but collapse from its own weak framework.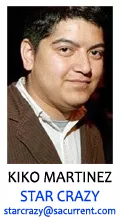 The film is intriguing at the start, with an eerie prologue narrated by McDowell. It feels like something Rod Serling would do for The Twilight Zone or Vic Perrin for The Outer Limits. None of the actual segments, however, do much to build on familiar themes used by countless thrillers before it. Sure, borrowing and referencing is fine, but there has to also be some willingness to jump off course and take chances. Sanitarium, instead, plays it safe.
In Ramirez's "Figuratively Speaking," an artist (John Glover looking a lot like Unibomber Ted Kaczynski) becomes emotionally attached to his exhibit, a set of Tim Burtonesque clay figures that speak to him. In Ortiz's "Monsters Are Real," an abused young boy (David Mazouz) is haunted by a shadowy figure with unclear intentions. In Valderrama's "Up to the Last Man," a segment with a bit more profundity than the first two, James Silo, a college professor (Lou Diamond Phillips) drives his family away when he becomes obsessed with the end of the world. While James takes refuge inside an underground bunker, flashbacks of his life and what led to his situation give a strong sense of his volatile condition.
Scheduled to be released on Blu-ray, DVD and Netflix this coming spring, Sanitarium strains to find the right sinister storytelling devices and allow each theme to make a real statement. Wrapping up each segment with a thought-provoking morale would have served the film better. Instead, Sanitarium goes for the cliché and easy way out: puppet vs. puppet master, reality vs. imagination (in its simplest form) is just not very interesting. – Kiko Martínez
Sanitarium was seen during a private screening at the Empire Theatre on Dec. 15.
Sanitarium
?? (out of 5 stars)
Dir. Bryan Ortiz, Bryan Ramirez and Kerry Valderrama; writ. Crystal Bratton, Scott Marcano, Bryan Ortiz and Kerry Valderrama; feat. Malcolm McDowell, John Glover, Chris Mulkey, Lou Diamond Phillips, David Mazouz, Robert Englund, Lacey Chabert