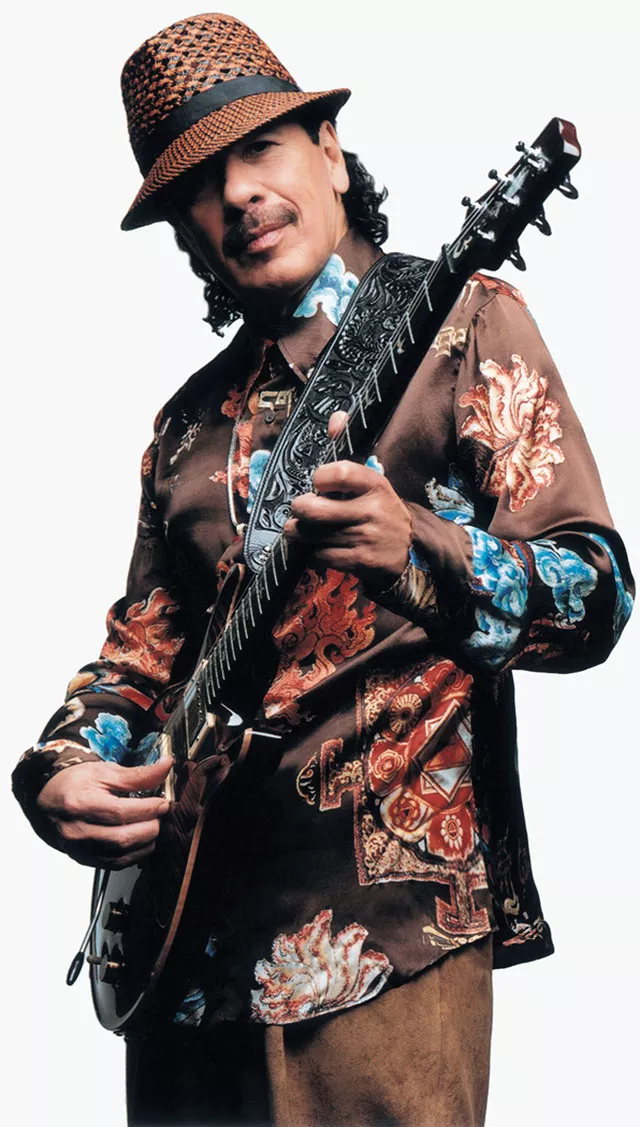 Has everything been invented in music? Yes and no. You can always trace what anyone is doing to an earlier master, an earlier sound. But every decade has new waves of music that change the musical map thanks to the inspiration of people who listen to their own muse. Or their own angel.
On August 16, 1969 (the second of the three days of the original Woodstock), Carlos Santana and his band stopped the show with a performance that catapulted him to guitar god status. And even though the mix of congas, electric guitar, and Afro Latin rhythms (African, if you ask him) had been toyed with in different countries, none had the power, skill level, and influence of that fierce rendition of "Soul Sacrifice." But then and now, Santana refuses to take credit.
"God invented everything, we discovered," he told the Current on the phone, back and forth in Spanish and English, days before his Sunday show at AT&T Center. "I just always kept my ears open."
He's touring for Guitar Heaven: The Greatest Guitar Classics of All Time, an album where he and guests cover songs like "Little Wing" (sang by Joe Cocker, another Woodstock veteran), "Can't You Hear Me Knocking" (Scott Weiland), and "Whole Lotta Love" (Chris Cornell). After the tour ends, he'll release Shape Shifter, an all-instrumental album of mostly originals that, judging from the quality of its title song, is the most challenging and least commercial Santana album since the '70s.
"I'm finally ready to do something like that," he said. "No singers, just the band and my guitar."
Santana has kept busy ever since the San Francisco tardeadas in the '60s opened his eyes and ears to a musical universe he internalized with integrity. He'll never forget the day he saw a mariachi orchestra, a salsa band, and a rock group playing in three different sections of a park in the Bay area.
"People would choose who to listen to, but I heard all three at the same time," he said. "Then I began to integrate B.B. King with Tito Puente, Cuco Sánchez with Ray Barreto, and Mongo Santamaría with Miles Davis. People said that it was something new, but for me it was only natural."
The most popular names of the era (Cream, Jimi Hendrix, Led Zeppelin, the Doors) were basically playing the blues, only increasingly louder. They were taking inspiration from the same blues and rock 'n' roll artists admired by the young Santana. "The only thing that was different was that I began to listen more to Tito Puente, Miles Davis, and [John] Coltrane. I began to integrate the thing with more latitude. Instead of being a one-trick dog, I learned the whole book."
But he has always known where it all comes from. He not only refuses to take credit for it, he doesn't want anyone besides the true owners to claim ownership either. "Ninety-nine percent of my music comes from Africa," he said. "Sorry, Puerto Ricans, and sorry Cubans, who think they invented it. But those are lies. They didn't invent chicken broth. Chicken broth was invented in Africa. Danzón, cha-cha-cha, mambo, bolero, cumbia … I can name 1,000 rhythms — they all come from Africa. The only thing that doesn't come from Africa is Riverdance. Even polka can be integrated with ska. A lot of people get mad at me and say, 'Why do you give so much credit to the negros?' Because it's their music! If I play at all, it's thanks to them! Thanks to them I have what I have! That's why I send a lot of money to Africa, because I clearly articulate the music of my African brothers."
While every one of his albums until 1984 had enjoyed some level of success, afterwards he became a thing of the past. That's why Clive Davis, the man who signed him to Arista in 1969, went to see him live at New York's Radio City Music Hall in the late '90s to change his life. Again.
He wanted Santana back on the charts. To do that he first needed to know if the musician was willing to work with some of the better-known names of the time. "[Davis] said, 'What you do live is incredible, but to enter the ring of radio is another thing. Are you open with willingness to play with Rob Thomas, Dave Matthews, Lauryn Hill, and Wylclef Jean and write songs with them?'"
"Yes, I'm not afraid," Santana replied. "I'll open my heart and complement what they give me, no matter what they bring."
They brought pop songs, and Santana made them explode.
Supernatural sold more than 27 million copies and won nine Grammy Awards, including Album of the Year. But don't credit Santana or Davis — credit Metatron, the Biblical angel some believe is the person who stopped Abraham from sacrificing his child. "That [Supernatural success] was something God wanted," said Santana. A year before he and Davis reconnected, Santana says he began consulting with the angel Metatron. "A lot of people think I'm crazy, but I don't care. They say, 'You say you speak to Metraton and the Virgin of Guadalupe, how can you say that?' And I say, 'How can you believe in God and not be able to speak with Him? You speak to Him but He can't speak to you? What kind of relationship is that? That's fantasy.'"
It was through those conversations that he knew it was time to up his game, he said.
"Each person, you and I, have a lot of voices, like monkeys yelling, that make us criticize, be afraid, and all that. But we also have another voice, more calm, lower, but more clear than all those monkeys. That's the voice I've followed from an early age, and that's why I am who I am and I am where I am." •
Santana feat. Michael Franti & Spearhead
$60-$95
7pm Sun., Sep. 11
AT&T Center
One AT&T Center
attcenter.com