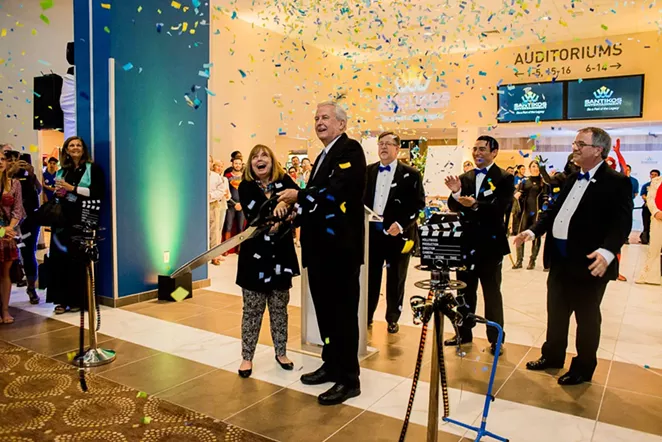 Courtesy
Dennis Noll, San Antonio Area Foundation CEO, and his wife Marty cut the film ribbon to mark the opening of Santikos Entertainment's newest movie theater Casa Blanca. Behind them from left to right: Santikos Entertainment CEO David Holmes, Casa Blanca general manager Roger Treviño and Santikos president Arthur Seago.

On the heels of its major rebrand in March, which included a refocus on local charitable outreach, Santikos Entertainment, formerly Santikos Theaters, has just introduced San Antonio to its newest movie theater.

Casa Blanca at Alamo Ranch on the city's northwest side, which officially opens its doors June 9, is the first fully laser digital projection theater in the world. It features 16 screens, in-theater dining, café and full bar service and 16 lanes of bowling. In six of the theaters, moviegoers can kick their feet up in reclining seating. Casa Blanca was the last theater designed by Santikos owner John Santikos, who passed in late December 2014.

"I can tell you that Mr. Santikos would be proud of Casa Blanca," David Holmes, CEO of Santikos Entertainment, told the Current during a VIP event June 7. "He was a visionary and relentless perfectionist. The first thing he would've done is walk every square inch of this theater. Then he would've been like, 'OK, what do we do next?' He was a restless warrior when it came to building theaters."


Courtesy
Star Wars characters make an appearance at the Casa Blanca Theater VIP event.
As the most technologically advanced theater in the Santikos
portfolio, Casa Blanca features Barco Laser Projection, a Dolby Atmos Surround
Sound System delivered through Klipsch speakers and two of the biggest movie
screens in Texas at 90 feet wide. Advancements in tech were something, Holmes
said, Santikos was always thinking about.


"John knew that when the lights went out in a
theater, everyone would show the same movie," Holmes said. "He realized you have to
think of other ways to differentiate yourself. He recognized that people want
to have something different than just a traditional movie experience."


With 81 million subscribers to Netflix and a new generation
of movie watchers, who would rather stay home and stream their entertainment,
the theater industry has changed drastically over the last decade. Holmes
recognizes this and wants to give San Antonians a reason to get off
their couch and see a movie the way it was made to be seen. Holmes said he
wants to be loyal to the "hardcore moviegoers."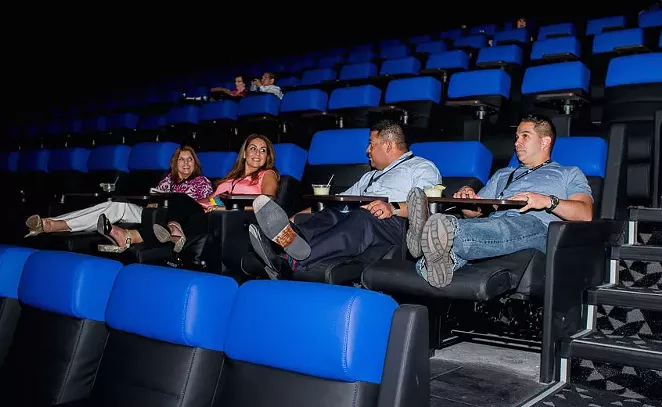 Courtesy
Kick back, relax and enjoy a flick at the new Santikos Casa Blanca Theater in Alamo Ranch on the city's northwest side.
"We will always have an ally in the content producers,"
Holmes said. "They want their movies to show in a large theatric environment. I
don't care what kind of home entertainment system you have, you're just not
going to get the same experience watching a movie at home."


Guided by Santikos' vision to continue to grow the business, Holmes
said to look for Santikos Entertainment to build more theaters in the future and
reinvest in existing ones.