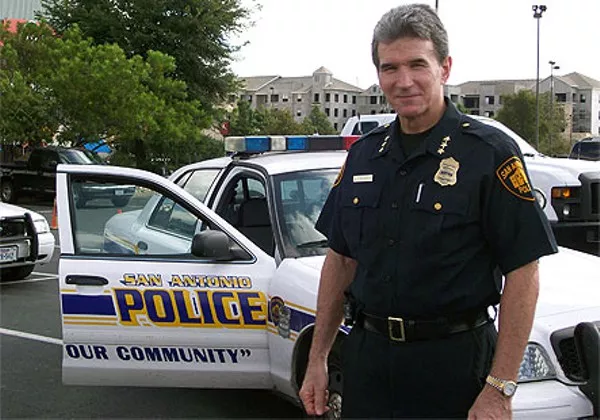 U.S. Department of Justice
The San Antonio Police Officer's Association wants Chief William McManus fired.
A San Antonio resident emailed SAPD Chief William McManus today to voice his support after the San Antonio Police Officer's Association voted to say they have no confidence in the chief.
"I'm but one voice among many, with limited information, but I do wish to express my support for your continued leadership at SAPD—unless and until substantive reasons are disclosed why you shouldn't remain in that position," Greg Pape wrote.
Pape included several Alamo City reporters, along with Mayor Ivy Taylor, City Councilman Alan E. Warrick II and Deputy City Manager Erik Walsh on the email.
McManus responded and hit reply all.
Thank you, Greg! I'm still bewildered by the viciousness of the union's response. Please know that I'll continue to work hard for our City!! Chief

WP McManus
On
Facebook
, the San Antonio Police Officer's Association said 97 percent of officers who responded voted no confidence.
97% of Police Officers have NO CONFIDENCE in Chief McManus. 99% of our Members stated clearly they will not return to the negotiating table while being sued. WILL THE CITY LISTEN? Or will Sheryl Sculley and Ivy Taylor sit in the safety of their City Hall offices and tell police officers their morale and voice doesn't matter?
The union vote comes after growing tension between it and the City. There's contentious collective bargaining non-negotiations, which have stalled since San Antonio sued the San Antonio Police Officer's Association over an evergreen clause in its contract.
There's also SAPD Officer John Lee, who shot and killed an Antroine Scott, an unarmed black man, earlier this year. Initially, media reports indicated that Lee would be placed on indefinite suspension, which would lead to his firing. After McManus met with Lee,
he rescinded that suspension
and ordered Lee to undergo training. Mayor Ivy Taylor said in a statement that blame shouldn't just be placed on Lee's shoulders because the investigation showed the outcome was shared. The union initially slammed McManus for the indefinite suspension.
Lastly, the union has said that McManus is planning to implement a reform from the Police Executive Research Forum that diverges from a Supreme Court ruling that defines the standards for judging whether force was reasonable in a case. McManus
told the San Antonio Express-News that
if that standard is going to be changed, it will change in the courts, not in the SAPD's policy. Simply put, he's not changing it.
In a video statement released while the San Antonio Police Officer's Association was announcing the results of its vote at a news conference, Mayor Taylor emailed a video message to Alamo City media that delves in length into her thoughts on the shooting of Scott and why she supports McManus.
Every city or town also has its own context. I will not allow our city's story to be that of the cities we see on the national news. We will write our own story here in San Antonio.
Taylor says now is the time for solutions and that while community members might be uncomfortable and disconcerted as SAPD officers may be with changing times and expectations, firing McManus is not the solution and will only divide the city instead of bringing residents together.
Politicizing this incident and putting it in the context of what is happening in other cities is NOT the solution. Just as reverting to 20th century police techniques or protesting the very meetings that seek to provide the opportunity for constructive dialogue is NOT the solution.
Echoing what Taylor said in her recent State of the City Address, she said "let's get to work" on solutions.
I won't spend time debating the existence of racism and its causes. Obviously, as an African American, I have strong views on that. However, grandstanding to score political points is not my style. I can't tell everyone what they want to hear. But I can tell you this – my goal is to restore and ensure that our San Antonio community trusts the officers who work to keep them safe AND to ensure that our SAPD have the tools and training to do their jobs effectively. We are One San Antonio and our fates are tied together. So let's get to work on the solutions.
As for those solutions, everyone seems to have different ideas.
Here's the full video of the mayor's statement: