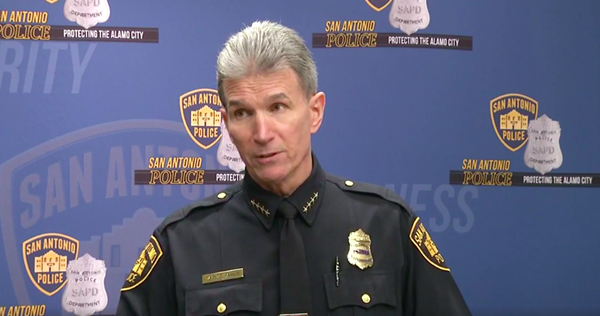 Facebook Live screenshot / News4SA
San Antonio Police Officer's Association — essentially, the SAPD union — has formally asked the city to place Chief William McManus on administrative leave for the way he handled a recent smuggling case.
In case you need a refresher: On December 23, SAPD arrested a semi truck driver for smuggling 12 immigrants in his trailer. Instead of detaining all 12 immigrants and asking for proof of citizenship,
SAPD treated the passengers like any regular victim
of a crime. They let all 12 go without charges. McManus also made the uncommon decision to charge the driver for breaking a state-level smuggling law rather than a federal one, which leaves U.S. Immigration and Customs Department out of the investigation.
On Friday, McManus clarified his decision.
"I gave no direction to skip or disregard standard protocol or process," McManus said in an email to the
Current
. "No background checks or fingerprints were taken of the 12 victims because it is against procedure do so of victims of crime or witnesses to a crime, especially in the context of a human smuggling case."
SAPOA President Mike Helle, however, argues that McManus
did
break protocol because the chief didn't handle the case in the same way he's done in the past. According to Helle, SAPD usually relies on federal Homeland Security agents in immigrant smuggling cases.
"Our department already has a working protocol and has been taught through in-service training that Homeland agents along with our detectives are the experts in these type of cases. Hold down the scene and call them to investigate to take over. From that point, SAPD will assist where needed," Helle writes in a Tuesday letter to the mayor and City Council. "On December 23, 2017, that was exactly what was happening until our Chief of Police, unrequested showed up at the scene."
The SAPD general manual doesn't include this "working protocol." Under the "Human Trafficking" section (last revised in 2012), the manual only requires officers "notify and coordinate with federal authorities and provide assistance as necessary" after leaving the scene of the crime, during follow-up proceedings.
After listing questions SAPOA has with McManus's decision-making, Helle called for disciplinary actions to be taken.
"Only time will tell us the full impact of his decisions but, our outcry to you is to place him on administrative leave pending the full investigation of a state or federal agency best equipped in understanding the complexities of this situation and to investigate if any state of federal laws have been violated."
The city has yet to respond to Helle's request, but City Manager Sheryl Sculley (who oversees SAPD) has already made clear her support of McManus's decision.
"I fully support Chief McManus' handling of the smuggling case and have no intention of placing him on administrative leave," she said in a Tuesday press statement. "No rule, directive, regulation or law was broken or circumvented. The Chief acted within his jurisdiction and, as acknowledged by federal law enforcement, had no real authority to hold the 12 individuals after they were questioned."