Couretsy of Copa Wine Bar
The history of wine bars in San Antonio, historically thought of as a beer town, has not been pretty — just ask Cecil Flentge. Along with his wife Pam, Flentge opened The Tasting Room at Embassy Oaks in the fall of '98 and closed it three years later. During its brief tenure, The Tasting Room was one of those obligatory Saturday stops for a group of budding wine aficionados.
"I spent 10 months looking for the perfect space, signed an agreement in August, but by the time we were ready to open, the best of the season had passed," Flentge says. Ticking off the things he did next to gin up interest, he says, "I started wine flights, worked in cooking classes with wine pairings, wine classes with food pairings … I initially had a cork-covered binder with 425 wines and pictures of wine regions around the world …and I would still get calls from people asking what they needed to know or do to 'get in'."
Flentge blames some of this on Hollywood's portrayal of the snooty sommelier — and some on himself. "I started out with a cause [wine education] and wasted too much time on that." And then came 9/11 and people began staying at home in droves, he says.
Flentge wasn't the first to challenge SA's long neck preference. That distinction goes to Niles Wine Bar on upper Broadway, a much-missed cottage and backyard that opened [a year earlier], in 1998, and additionally featured beer and music. The first serious wine bar (here defined as a place that may serve some food but emphasizes wine and sometimes specialty suds) to buck the odds and survive was Copa Wine Bar in Stone Oak. Affable owners Jeff and Angie Bridges had previously operated a retail wine shop nearby, selling it to open Copa in 2005. From the beginning, wines were available to take out or to consume on the spot, and, maybe we were finally ready for it, Copa quickly became a social hub.
Early on, it seemed that there was a bias toward Spanish wines, and that was fine. Many of us remembered them as cheap and rustic from post-college days, and Copa was showing us that they could be sophisticated. To go with these and other wines by the glass or bottle, there was a selection of tapas, another category, now knee-jerk, advanced by the Bridges. Think hummus with a chipotle jolt and thoughtful cheese and charcuterie plates.
That original wine list is now eight pages not counting Texas beers but including 20 tasting flights of four 2-ounce pours ranging from "Sweet Tooth" (Copa is not afraid to admit that many folks like sweet wines), to "What the Heck is a … A sampling of some obscure but delicious white wines." New world producers often seem to be preferred to their old world counterparts, but in every case the wines are simply and effectively described — in one case "ballsy," and in another "fresh, fruity, silky, fun."
You'll have to go straight to the shelf or the bottle to find wine descriptors at Nectar Wine Bar and Ale House. The menu that Rob and Rachel Stevens have put together reserves its adjectives for the varied cheese selection; along with Bordeaux, cheeses are a Stevens obsession.
Passing through several cities and as many careers (hospitality, early childhood ed., chemical engineering…), the couple found themselves in SA, decided they wanted to stay, but needed a way to make it happen. If, they reasoned, they felt the need of a place to go sit at a table with a good but unfussy bottle of wine, they couldn't be the only ones, and so the search for a place began up and down Broadway.
"Nobody would call us back," said Rob at an earlier interview. But they finally found a space in the Calcasieu Building, did most of the work themselves, and opened nearly a year and a half ago. Returning on a recent Friday night, the place was filling up fast, and despite what some might consider a challenging location, these were locals. What was bringing them? Maybe it's the fact that the Stevenses have unfussy down pat, an attitude that includes servers in T-shirts and snug black jeans and the total lack of winespeak.
Rachel says that the number of wines to take home or consume there has increased by 30 since they opened, and the weekly BTG list is now larger by about 30 percent. "I change the tasting list every Monday," says Rob, keeping only the Bianchi Moscato. "It's too sweet for me, but new wine drinkers like it, and once they have tried it a few times, I nudge them toward other whites and reds, and they never go back." One way to explore that somewhat quirky list is to take advantage of the bargain that is the "Any 3 for $15" flight. Just don't ask for the moscato, please.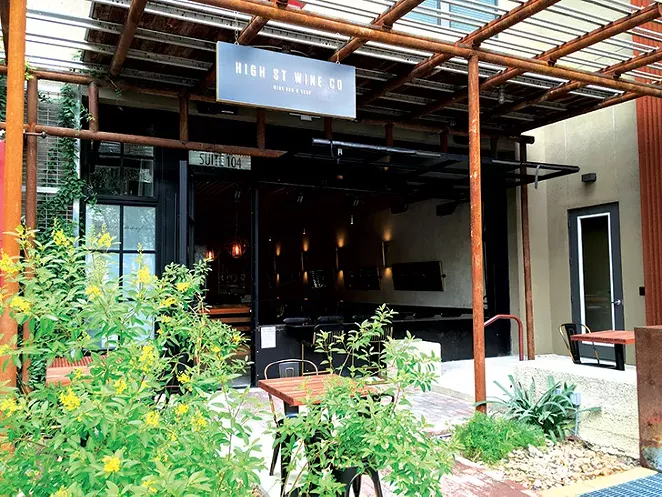 The latest venture to test the wine waters in San Antonio is High Street at the Pearl. It's a handsome space featuring some clever architectural features such as the impressive, counter-balanced window wall that opens to the courtyard alongside Cured. The owners are two young, well-spoken gents, one of whom, Mark Stoltz, is an insurance guy with a serious wine jones; the other, Scott Ota, is a wine pro with enough cred, including 2013's Best New Sommelier in Texas award, to impress anyone in any city.
The menu opens with a bar snacks page that's well-selected but limited: olives, nuts, cheeses, tinned Portuguese seafoods (very cool packaging; check out the website at josegourmet.com). Page two is by-the-glass and flights — not impressive in quantity terms (as a sometimes-solo imbiber, I always hope for a big BTG selection). But, the list changes frequently, and the selections have been universally exciting, stopping just short of, oh hell, thrilling. Especially if I consider the list of ciders that includes a beautifully barnyard-y offering from Normandy.
The by-the-bottle menu is priced to take out or consume there, and it's by no means encyclopedic. "I have 160 offerings," said Ota during my two-minute tour of the tiny, glassed in cellar — organized, he also mentioned, "like a Rubik's Cube." It's hard to see how the list can expand much due to onsite constraints, though Ota does anticipate adding more sherries as one example. And if some of us might like to see a few more Spanish reds, say, we can just agitate to take a few away from France.
And in any case, from all appearances, the partners aren't interested in being all things to all consumers. Though to a man and woman, the servers have been extremely knowledgeable, there's not a hint of the didactic, of the imperious sommelier stereotype mentioned by Flentge. "I look for passion when hiring," says Ota. "I could care less about experience. I want them to learn something every day and serve with humility. We have to make wine as approachable as possible to spread the gospel," he says, betraying just a hint of messianic purpose.
For the record, there is nevertheless a lot of experience behind that bar but hardly a whiff of ego. Maybe this is what the wine-susceptible public has needed all along. That and a great bottle of Terre Nere 2015 Etna Bianco.