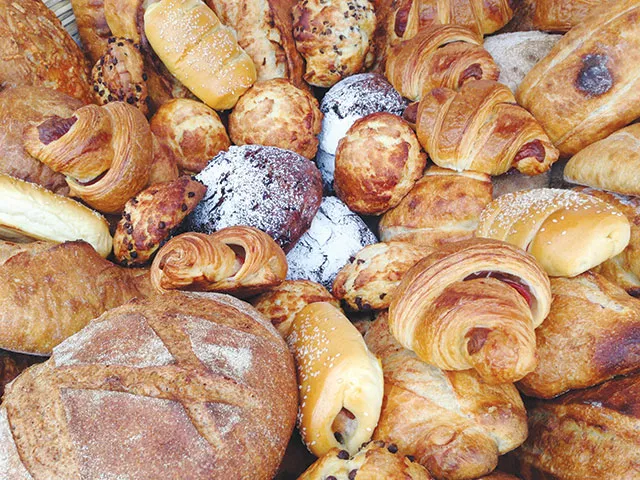 There are a few things better than bread—sunshine, puppy breath and a Spurs win come to mind. So, it made sense for the Quarry Farmers & Ranchers Market to add another bakery to its line up in September of 2013. Owned by brothers David and Jose Cacéres, La Panaderia is turning into the little booth that could. But with a look at the sibling's history, one should think this no surprise.
Jose, 43, and David, 37, were practically born into the baking business. Their mother, Josefina, owned a panaderia in Mexico City when the brothers were young boys. "I remember selling as a kid in the markets of Mexico [City], yelling 'Roscas, roscas de cinco y diez,'" Jose said.
He learned business side of the baking industry just before his mother passed away in 1999. The Cacéres eventually grew the small panaderia into an industrial behemoth that housed 500 employees in its heyday while supplying pastries to Walmart stores in Mexico. The relationship soured in 2007, when the brothers say they "lost almost everything." After making due with a tortilleria business, the Cacéres once again landed a great gig producing baked goods for Alsea, a restaurant company that owns some 2,000 fast-food chains in all of Mexico and Latin America.
In 2012, after David completed a culinary arts degree from Le Cordon Bleu in Mexico, the brothers decided to give the U.S. a shot. Jose traveled to San Antonio with his family after searching for an adequate city to open up shop, while David beefed up his pastry chops with a professional course at the San Francisco Baking Institute "to become a panadero."
"People are familiar with pan dulce, and SA is ready in the food sense (to welcome us)," David said.
They applied to be a part of the Quarry market to emulate the success of bakeries in San Francisco, which grow an audience inside foodie hot spots such as the Ferry Plaza Farmers Market or the Heart of the City Farmers' Market.
After half a year at the market, the Cacéres brothers are once again trying their hands at a brick-and-mortar location. The first of possibly five bakeries they hope to open in the next few years, La Panaderia will open at 8305 Broadway in mid-March. The 1,500-square-foot bakery will include market favorites such as the fluffy conchas and flaky orejas or palmeritas (often dipped in chocolate), almond croissants and a line of bread they call "bread cultura" that's fermented for 48 or 72 hours to help break down complex sugars found in wheat.
The shop will seat 12, and will also feature birotes, a bolillo-esque baguette of sorts, which will be used for breakfast and lunch sandwiches. Tres leches cake will be offered, naturally, as well as cheesecakes and other refrigerated goodies they weren't able to carry at the market. At the end of the day, they're hoping to slowly introduce the concept of merienda, a light meal of cookies or cakes in mid-afternoon, to SA.
"It's not just about pan dulce," Jose said "it's about sharing your day, love, family, happiness."