Kody Melton
Zulcoralis "Zulco" Rodríguez hopes that practice makes perfect as she heads to NYC this weekend to take part in the country's top bartending competition.
The scene was much like one would imagine for a baby's typical first birthday party.
Streamers, balloons, gift bags and rowdy tots teetered around the festivities, squealing and shouting — all except for the birthday girl, who quietly and calmly observed the raucous party.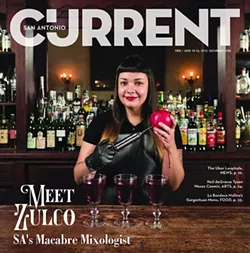 Some parents would have sighed with relief at the thought of a mild-tempered child. But Diana Coral Aleman knew something was off.
Despite her mother's spot-on instincts coming true, that baby has turned into a 28-year-old woman about to board a plane to New York City to compete as the Texas representative in a national bartending competition.
It's but the latest feat in the life of Zulcoralis "Zulco" Rodriguez. She simply refuses to be held back despite her moderate to severe congenital sensorineural hearing loss with which she was diagnosed as a baby.
"I don't let that stop me. I'll do this as long as I can," she told the San Antonio Current last week. "I'm very independent, you don't have to worry about me ... I'm not like, 'I'm deaf, boohoo.'"
Precisely. Get to know Zulco, and you'll quickly realize that her disability is actually just one of many traits that make Rodriguez — whose win at Miss Speed Rack Dallas regional contest in January earned her a ticket for the Big Apple — quite the unique individual. Good luck trying to fit her into one clear-cut category. There's no such box to check off to describe her.
Island Girl
Rodriguez may have made a home for herself in San Antonio, but her story starts in the tropics. The first-born daughter of Angel Luis Rodriguez and Aleman, she grew up in the bustling seaside capital city of San Juan, Puerto Rico. Her mother distinctly recalled little Zulco as a fast-developing little one — she walked and had a set of milky whites at just five months old.
After her initial diagnosis, Rodriguez got cochlear implants. By second grade, she needed a hearing aid in her right ear to manage the condition. By that time, she and sister Dennise played guessing games that helped Rodriguez eventually learn how to read lips.
"You have to make sure you're in front of her, or else she can't," Aleman said in an interview with the Current last week.
By sixth grade, she had hearing aids in both ears. The family couldn't afford to pay on their own, so a family friend and a local politician chipped in to make it happen.
"I had those for six years, but I went back to the outer shell because my hearing loss got more severe," Rodriguez said. "That's why you see a lot of old people with those."
By that time Rodriguez had already found hobbies and extracurricular activities in ballet and the Girl Scouts (she retired from her scout career as a senior member, two years shy of getting her own troop). She was also active, playing soccer, volleyball and track and field in middle school and high school.
"She always excelled at what she tried, I never had to work at teaching her or helping her. She always got it, gracias a Dios," beamed Aleman.
But school wasn't without strife. Kids bullied Rodriguez and teased her about the hearing aids — "I told her to say they were for hearing the stupid things they said," Aleman recalled — and teachers at her Catholic school weren't always keen on Rodriguez's chatty ways.
Childhood friend Fernando Villar said that's just her personality.
"She's very intelligent, you never know what she'll say," Villar told the Current in a phone interview from Orlando. "Even when she does run into trouble, she likes challenges."
That assessment received motherly approval.
"You have to understand her. I get her," Aleman said. "I have two daughters, but she and I have this beautiful relationship that's unlike mother-daughter, but that of friends."
So when Rodriguez decided she wanted to head stateside to pursue a degree in forensic pathology, the family agreed to give San Antonio a shot. South Florida, home to a large Puerto Rican population, would be too similar to home so Texas would definitely be trying something really different, Rodriguez said.
CSI: San Antonio
Rodriguez's interest in forensic pathology wasn't completely surprising to her family. As a kid, she watched Discovery Channel and NatGeo with her father and always voiced an interest in death. She clipped articles and stockpiled books on ancient civilizations, mummies and lost cities. But after a few shaky pre-med semesters at St. Mary's University, Rodriguez transferred to San Antonio College, where she hoped to build on her biology credits.
But then she took a different turn — to the service industry.
"I noticed my sister making more than I would. I was working harder; she was working smarter," Rodriguez said.
She landed at La Marginal off Nacogdoches, a popular Puerto Rican hangout where she found herself retooling their simple bar program and eventually increasing profits by 30 percent during her year there.
When it comes to working in the bar industry, Rodriguez doesn't let her hearing loss affect the service she's providing. More often than not, diners and bar-goers aren't even aware of her impediment.
On particularly rowdy evenings, she may have to tap a fellow bartender on the shoulder and ask for help with getting the correct drink order down. Her lip reading allows her to fill in the gaps, as long as orders are pronounced well.
"Mumbling is my biggest enemy," said Rodriguez, a native Spanish speaker. "It's not about knowing the language, it's about people speaking clearly."
After a brief stint at Club Rio, Rodriguez began bartending at Hotel Havana, where a co-worker clued her in on the mortuary science program at San Antonio College, just one of four offered in Texas.
It piqued her interest.
"I was struggling academically for a while. I needed a boost. I could still do something related to people," Rodriguez said.
Rodriguez, voted most eccentric in high school back in Puerto Rico, saw mortuary science as a good opportunity. After all, both embalming and bartending are two distinctly service-oriented crafts.
None of this was shocking to Aleman, who pointed to Rodriguez's passion for taxidermy. Visit Rodriguez's apartment and you'll find things like a stuffed chicken foot and a velvet monkey paw
Her latest addition includes a bejeweled (and admittedly quite stylish) lamb leg necklace. Most of her finds, including a mounted mouse butt, are purchased through Etsy or Ebay.
Villar was also not shocked by her friend's drastic career change.
"That's normal for her. She's been into autopsies and such since I met her," he said.
Rodriguez studied and worked concurrently. She readily impressed her boss as a cocktail server at The Brooklynite.
"Her impairment never stopped her once form taking an order. She's done it for so long she knows the tricks ... she has a drive about her that's rare and beautiful," gushed bar manager Jorel Peña.
That work ethic and determination eventually landed her as a barback and later cocktail producer at Esquire Tavern, where she still holds down the craft well.
At the time, she had no problems continuing to juxtapose both careers.
"Zulco would come in with this big smile on her face and we'd ask what was up and she'd go, 'I embalmed a body today!'" Esquire manager Myles Worrell said.
Speed Demon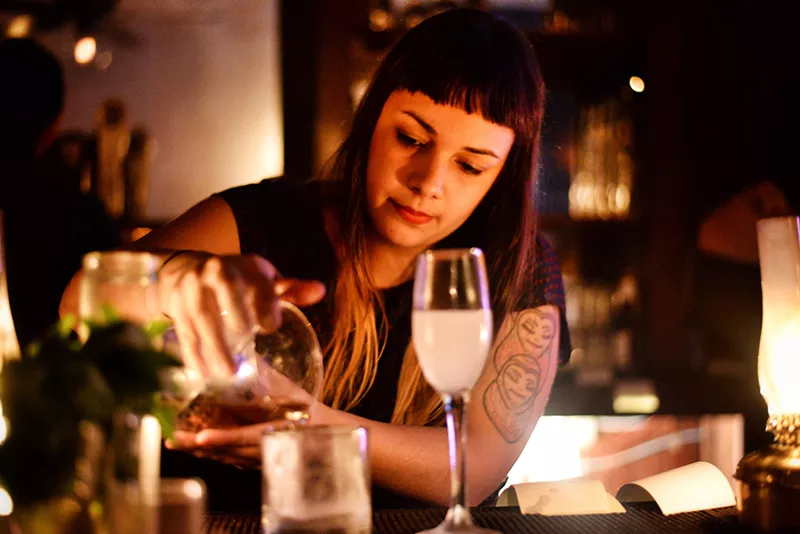 But eventually she was forced to choose between the two.
After completing her associate's degree in May 2013, Rodriguez found herself in a conundrum — focus on cocktails or head back to the preparation room. For now, the decision is boiling down to a scheduling conflict. Entry-level morticians, especially those working for smaller, family-owned funeral homes, often get the short end of the stick when it comes to on-call shifts. Rushing off to pick up a body during a bartending shift at 2 a.m. is not the ideal scenario, to say the least.
Her internships included working at Puente & Sons Funeral Home and Olinger-Saenz Mortuary Service, where Rodriguez had to tone down her alternative image. To date, she's collected 13 piercings and 12 tattoos (feminine drawings, Russian nesting dolls, a hydra, eyes, an eye of Ra, a fern, an open bird cage with flying birds and a trace of Puerto Rico with symbols of the Tainos, Puerto Rico's original inhabitants).
But if she was going to stick with bartending, at least for now, Rodriguez had her sights set on making her mark. After working with Karah Carmack, San Antonio's first Miss Speed Rack Texas winner in 2012 and becoming friends with the following year's winner, Elisabeth Forsythe, Rodriguez warmed up to the challenge. The contest gathers the top female bartenders from across the state. The goal? Making near-perfect classic cocktails in as little time as possible. Proceeds from the event go toward breast cancer awareness and research.
Worrell, who coincidentally helped train Denver's winner, Tacy Rowland, helped Rodriguez craft her entry video, in which she highlighted her uniqueness as the only female member of Esquire's bar staff at the time, as well as her hearing loss.
"She's one of our hardest workers we have. I wasn't surprised by her win at all," Worrell said. Her finish time for Speed Rack Dallas clocked in at two minutes and 45 seconds (she did get a 20-second demerit).
Before heading into finals on Sunday in New York City, Worrell and Rodriguez, along with other bartenders in town, mapped out practice rounds where cocktail lovers could see firsthand how fast the libations come together.
During a guest spot at Park Social earlier this month, Rodriguez took down 11 practice rounds with times hovering around the two minute mark. Guests were asked to choose from the list of 50 classic cocktails, shaken and stirred.
Velia Cox, a regular who's followed Rodriguez professionally since her days at Hotel Havana, had a first-row seat to the feat.
"She's very inspiring and a total feminist. She's very empowering. I think that's what drew me to her ... besides the drinks," Cox said.
For Forsythe, who hosted Rodriguez at Barbaro for several practice rounds, Rodriguez has what it takes to compete at a national level.
"She's got this no nonsense attitude and an air of confidence about her. She's definitely a competitor," she said. "The times she's working with now are impressive; she's got a good shot."
Rodriguez's notes, all 12 pages of cocktail recipe and appropriate glassware, will get more wear and tear as she goes into Sunday's competition and she's being cheered on in spirit by her cocktail brethren and regulars back in SA.
Regardless of the outcome, Rodriguez can look forward to coming home to a supportive and diverse community — from fellow bartenders to pizza-makers at Main Street Pizza where she's a regular, to the Alamo Orchid Society where Rodriguez and her mom geek out over the fickle and beautiful plants.
Should she continue to bartend, or eventually head back into the prep room (she's got an offer on the table), Rodriguez will likely excel at either ... or both.
"Both businesses are pretty similar — everyone drinks and we all die," Rodriguez laughed.