Page 2 of 2
Speed Demon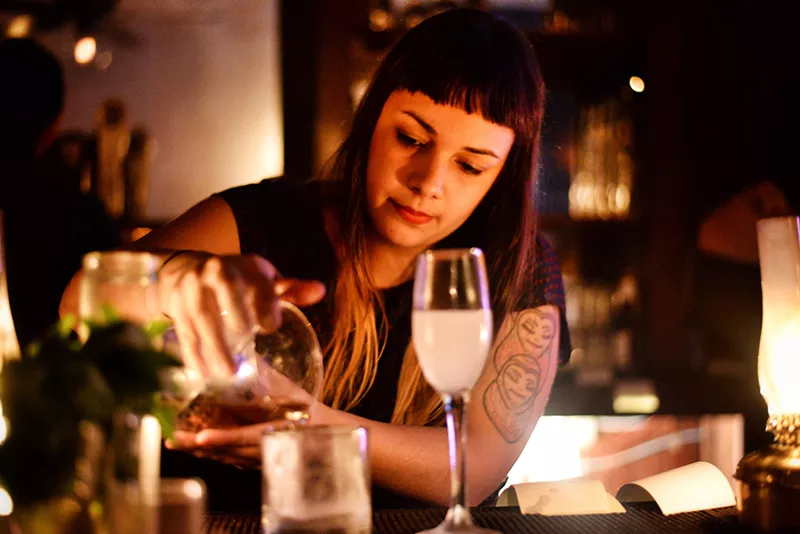 But eventually she was forced to choose between the two.
After completing her associate's degree in May 2013, Rodriguez found herself in a conundrum — focus on cocktails or head back to the preparation room. For now, the decision is boiling down to a scheduling conflict. Entry-level morticians, especially those working for smaller, family-owned funeral homes, often get the short end of the stick when it comes to on-call shifts. Rushing off to pick up a body during a bartending shift at 2 a.m. is not the ideal scenario, to say the least.
Her internships included working at Puente & Sons Funeral Home and Olinger-Saenz Mortuary Service, where Rodriguez had to tone down her alternative image. To date, she's collected 13 piercings and 12 tattoos (feminine drawings, Russian nesting dolls, a hydra, eyes, an eye of Ra, a fern, an open bird cage with flying birds and a trace of Puerto Rico with symbols of the Tainos, Puerto Rico's original inhabitants).
But if she was going to stick with bartending, at least for now, Rodriguez had her sights set on making her mark. After working with Karah Carmack, San Antonio's first Miss Speed Rack Texas winner in 2012 and becoming friends with the following year's winner, Elisabeth Forsythe, Rodriguez warmed up to the challenge. The contest gathers the top female bartenders from across the state. The goal? Making near-perfect classic cocktails in as little time as possible. Proceeds from the event go toward breast cancer awareness and research.
Worrell, who coincidentally helped train Denver's winner, Tacy Rowland, helped Rodriguez craft her entry video, in which she highlighted her uniqueness as the only female member of Esquire's bar staff at the time, as well as her hearing loss.
"She's one of our hardest workers we have. I wasn't surprised by her win at all," Worrell said. Her finish time for Speed Rack Dallas clocked in at two minutes and 45 seconds (she did get a 20-second demerit).
Before heading into finals on Sunday in New York City, Worrell and Rodriguez, along with other bartenders in town, mapped out practice rounds where cocktail lovers could see firsthand how fast the libations come together.
During a guest spot at Park Social earlier this month, Rodriguez took down 11 practice rounds with times hovering around the two minute mark. Guests were asked to choose from the list of 50 classic cocktails, shaken and stirred.
Velia Cox, a regular who's followed Rodriguez professionally since her days at Hotel Havana, had a first-row seat to the feat.
"She's very inspiring and a total feminist. She's very empowering. I think that's what drew me to her ... besides the drinks," Cox said.
For Forsythe, who hosted Rodriguez at Barbaro for several practice rounds, Rodriguez has what it takes to compete at a national level.
"She's got this no nonsense attitude and an air of confidence about her. She's definitely a competitor," she said. "The times she's working with now are impressive; she's got a good shot."
Rodriguez's notes, all 12 pages of cocktail recipe and appropriate glassware, will get more wear and tear as she goes into Sunday's competition and she's being cheered on in spirit by her cocktail brethren and regulars back in SA.
Regardless of the outcome, Rodriguez can look forward to coming home to a supportive and diverse community — from fellow bartenders to pizza-makers at Main Street Pizza where she's a regular, to the Alamo Orchid Society where Rodriguez and her mom geek out over the fickle and beautiful plants.
Should she continue to bartend, or eventually head back into the prep room (she's got an offer on the table), Rodriguez will likely excel at either ... or both.
"Both businesses are pretty similar — everyone drinks and we all die," Rodriguez laughed.