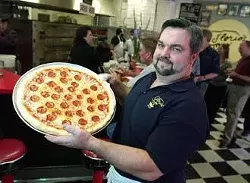 Steve Florio shows off a freshly made New Jersey-style pepperoni pizza at his family's Linclon Heights eatery.
Release Date:
2004-04-08
If you're looking for a major, this-can't-be-San Antonio experience - and some of you out there surely must be - have I ever got a place for you: Florio's Pizza. "Originally from New Jersey - since 1980," the menu proclaims, making one thing abundantly clear: You can take a family out of Joisey, but you can't take ... you know the rest. Get ready for some attitude.
It's all in good spirits, of course, but the first-timer may experience a little culture shock - not the least of which is occasioned by the casual ordering process at the counter. The only visible menu, located above the prodigious pile of take-out pizza boxes (emblazoned with "In-God-We-Trust"-type statements), tells but a fraction of the story, so ask to see the plasticized take-out menu. (I also suggest getting a paper menu and memorizing it for the next encounter.) The composed pizzas on that menu are listed only in large-size prices, but, yes, they are available in small and medium. (I asked, and got a brief lecture on the obvious foolishness of my question; now we both know better.) The subs, calzones, and salad listings are more straightforward, though I was reminded that the eggplant parmesan sub, indicated as taking 20 minutes to prepare, really did take 20 minutes - in fact, it was more like 15. Beers are fairly obvious since there's a display of them behind the counter, but wine is a puzzlement - first we had to ask if there was any. "White or red?" was the response. OK, red.
I'll spare you the rest of the conversation by pointing out that though there is a wine list on the tables - where it does nobody any good except on reorders; you otherwise have to know what's available by intuition or lengthy questioning. Let me help you out here. In the white category, you have the choice of Barefoot white zin, La Francesca pinot grigio, and Barefoot chardonnay. Reds include La Francesca merlot, Gionelli Montepulciano, Bartili Ducceto Chianti, and a Thomas Mitchell blend of Aussie cab franc, shiraz, and ruby cabernet. Let me help you out even more: The Montepulciano ($4) is drinkable, but the Chianti is worth the extra fifty cents. The glasses, by the way, may be small, but they're filled to the rim - just remember to pick yours up beside the soda machine. Failure to do so in a timely fashion will get you another lecture.
The New York/New Jersey connection is apparent in more than the attitude and the pizza: Paraphernalia from every sports team that is now or ever was located in the region adorns the walls. You won't have a great deal of time to study it, though, since service is as quick as the attitude is sharp. Our antipasto salad arrived first, and in the spirit of giving as good as I got, my first comment would be that it's big. And that's my best comment, actually. A mountain of iceberg, with a little red cabbage and carrot, supported rolled salami, ham, and provolone (the expected pepperoni was in short supply); there were salad peppers and tomato wedges - and lots of those sliced, California black olives you know I hate. Which is doubtless why there were so many of them. The dressing was a basic, olive-oil Italian, and I have to admit that everything was impeccably fresh; it just wasn't very inspiring.
Enter the pizzas: the Lodi with garlic and olive oil, and a pizza bianca. The bianca looked just like it should: white - with a little browning from the provolone that covered the base of ricotta, olive oil, garlic, and red pepper flakes. Not much garlic or red pepper - and the pizza could have used it. We added salt, which improved things, but the thin crust was slightly undercooked, and there couldn't ameliorate that. Apart from sending it back, of course, and if you think I was about to toss myself into that lion's den, think again - especially in light of a sign behind the counter reading "If you are grouchy, mean, or just plain irritable, there will be a $10 charge for putting up with you."
The Lodi, on the other hand, had been ordered as a bellwether. It may sound like the cop-out response of the chronically undecided, but it seems to me that the best way to test a pizza parlor's prowess is not to pile on every available ingredient. And here Florio's passed with flying colors: pick your Jersey jersey. There was plenty of garlic atop the light base of cheese and thin tomato sauce, and the crust was magically light and crisp. I'd order the Lodi again in a heartbeat, and it gives me hope for all other combinations - especially ones with less insulating power (and more punch) than ricotta.
The eggplant parmesan sub, on the other hand, needed more moxie. Oh, the eggplant's breading was delicate, to be sure, and the bread itself was not at all bad, but ... I'm eating the reheated half as I write this, and it's better than I remembered. The parmesan coating is still reasonably crisp, and the balance of flavors is fine. Maybe just a little more tomato sauce, and that's it. Mama's meatball parmesan is another choice, as is the "famous cold Italian hero," the description of which reads for all the world like the antipasto salad between slices of bread.
I steeled myself for a return to the counter to order dessert - and got another family member. Emboldened, I asked if the special cake of the day was made in-house, and got this terse reply: "My sister makes it." Sister and I had already had our set-to, but what-the-hey; I just assumed I had better like that day's special, chocolate, or suffer vividly imagined consequences. What a relief. Not only was it a four-layer fantasy, but it was moist beyond my wildest expectations - and almost chocolatey enough. Patty (for the menu section is called "Patty's Delectable Desserts") may be fast with the lip, but the cake shows where her heart really is. Keeping that firmly in mind, I might just sneak back one day. Disguised, of course. •