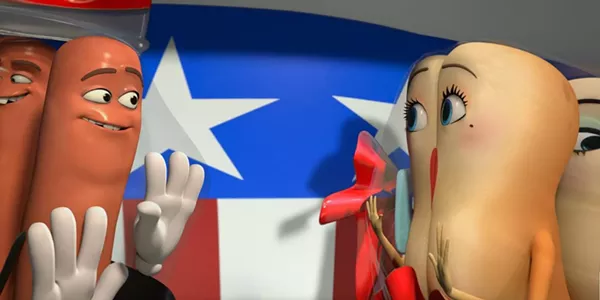 Courtesy of Sony Pictures
Anthropomorphic beings have been part of my upbringing since I can remember. Disney made sure of that with 1991's
Beauty and the Beast
and its cast of servants turned castle appliances. Then there was 1992's
Aladdin
with the mute, but quite emotive, magical carpet. Let's not forget
The Brave Little Toaster
before that.
But there's something about food bearing human characteristics that rubbed me the wrong way from the very first time I saw a trailer for Seth Rogen's latest chuckle-fest,
Sausage Party
. Don't get me wrong, the 83 percent certified fresh rating is definitely deserved. Soundtrack nerds will find familiar notes as Alan Menken, who wrote most of
The Little Mermaid
,
Aladdin
,
Pocahontas
, served as composer for this flick as well.
The movie takes every inherent racial stereotype and let's it simmer for about an hour as the characters weave through international aisle after international aisle, before turning it on its head. (No, lavash, you're not that different from bagel, you've just gotta share the aisle and work together for the greater good, etc.). Sausage party is also the most existential dick joke you might come across.
First, the set-up: Frank the sausage (Rogen), his girlfriend Brenda the Bun (Kristen Wiig) are aching to make it out of Shopwell's and into "The Great Beyond," where they can finally touch more than just the tips. They do so by being chosen or shopped for by the gods — humans, usually portrayed by giant slobs or big-hipped gals. Eventually Frank and co. learn there
is
no great beyond, and the gods are just gross eaters, and they have to figure a way out of this pickle (pun intended, obviously).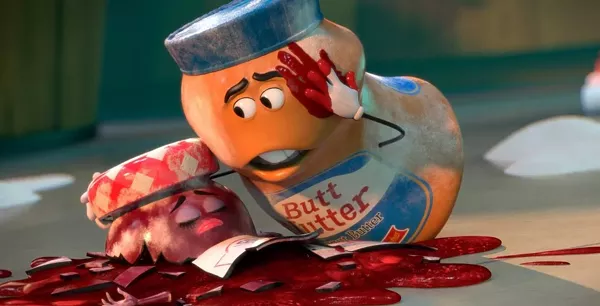 Courtesy of Sony Pictures
The puns are rich, the jam-packed details definitely beg for a second viewing and the gags are as plentiful as you'd imagine from a Pixar-esque feature film by Rogen and writing partner Evan Goldberg. I won't spoil the epic takedown of said gods, or how they did it.
But feel I should warn you of the food orgy (can we call it a smorgasbord?) that serves as the film's denouement and rivals the marionette sex scene from 2004's
Team America: World Police
.
Much as in
This Is The End
, where Rogen and co. throw the viewer a bone with the "Backstreet's Back" dance number with the actual Backstreet Boys, the filmmakers throw us another bone ... this time, there's several of them, all literal. Yes, Frank and Brenda finally consummate their relationship. No, I won't go into who goes down on whom (though Salma Hayek does play lesbian Teresa del Taco), or who gets a lap dance from sexy gum (how they sexified gum is beyond me), or what the safety word is, but the entire three-page food orgy scene (check out a dramatic
reading here
) will leave you thoroughly amused/slightly aroused (if you're into that sort of thing) and with truly confusing thoughts about your next trip to the grocery store. Bon appetit?
Sausage Party
(1 hour, 29 minutes) is rated R, obviously, and is currently playing in theaters nationwide.